Happy Sweet Tangerine Mochi
Add some sunshine to your day with this happy & sweet Tangerine Mochi! These bite-sized treats are the perfect blend of sweet and tangy with a chewy texture that will leave you wanting more. And with Suncore Foods® Red Beet & Yellow Goldenberry Powders, you'll get a vibrant pop of color that's sure to brighten up any occasion! These mochi are so simple to make and are the perfect way to enjoy the colors of the season. From picnics to after-school treats, your taste buds will thank you for indulging in this yummy treat. Treat yourself and others to a taste of sweet sunshine with this mochi.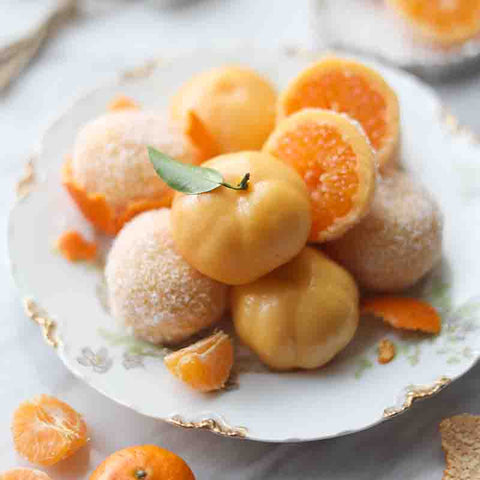 Directions
1. In a large bowl add all ingredients except for butter. Whisk until smooth. Pass the mixture through a strainer to remove any lumps. Pour mixture to a a microwave bowl. Cover with plastic wrap, pop holes on the plastic with toothpick. Put the bowl into a microwave, heat it up for 1 min. Take the bowl out and stir the mixture around with a heatproof spatula. Back into the microwave and heat it up for 1 min. Remove the bowl from the microwave. Keep stirring with the heatproof spatula, back into the microwave and heat it up for 1 min, keep stirring until it thickens. Add the soften butter while the mochi mixture is still a little warm. Knead the mixture until smooth. Allow to cool completely.
2. Take a small piece of dough. Flatten mochi dough and put the tangerine on top of it. Wrap it with pinching the bottom closed.
3. Wrap each individual piece of mochi in plastic wrap. Keep in a container and place it in the fridge to keep it from drying out.
---