Garnet Elderberry Gnocchi
Elevate your dinner table with these gorgeous, fluffy, and tender. Garnet Elderberry Gnocchi! Life is too short to eat boring food so let's add some fun and color to your meal with Suncore Foods® Garnet Elderberry Powder and create this beautiful deep, mesmerizing blue-violet. With the quintessentially perfect sauce made of brown butter, sage, and parmesan cheese, this dish is just *perfection* Impress your loved ones and family with this exquisite recipe. Unlock the gnocchi to happiness and enjoy!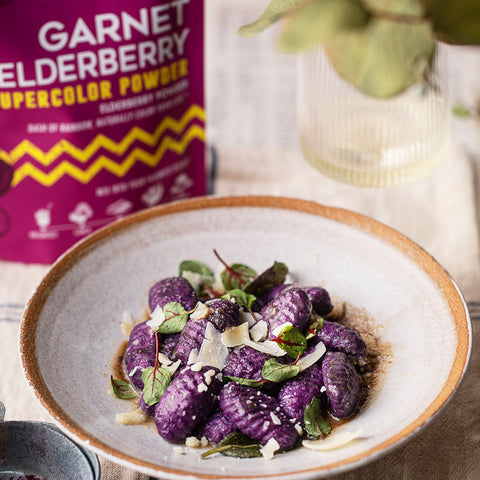 Directions
1. Boil potatoes until fork-tender but not overdone. Peel potatoes and mash with the fork until it looks like small coarse crumbs.
2. Add flour, salt over the work surface. Make a well in this mount and crack the egg in the middle.
3. Dissolve Suncore Foods® Garnet Elderberry Powder in 1/4 cup of water. Add garnet Elderberry mixture to the dough. Knead the dough.Split the dough into several workable pieces and roll each into about 1/2 inch log. Cut each into 3/4 inch pieces. You can use a fork to roll each piece of gnocchi with a design.
4. Bring a pot of salted water to boil. Drop desired amount of gnocchi in it.
In a medium pan, melt the butter on low heat for about 10 minutes, until it will become brown.
5. Remove the gnocchi from the water and fry in a prepared brown butter.Serve gnocchi with brown butter, sage and parmesan cheese.
---