Cerise Prickly Pear Pink Pitaya Panna Cotta
A simply, dreamy, and perfectly luscious dessert that you can make in practically no time. With just a spoonful, you are in for a mouthwatering experience! Enhanced with a vibrant and gorgeously pink hue made with our cherished Suncore Foods® Cerise Prickly Pear & Pink Pitaya Powders, and it's perfect for that middle of the day or late night snack!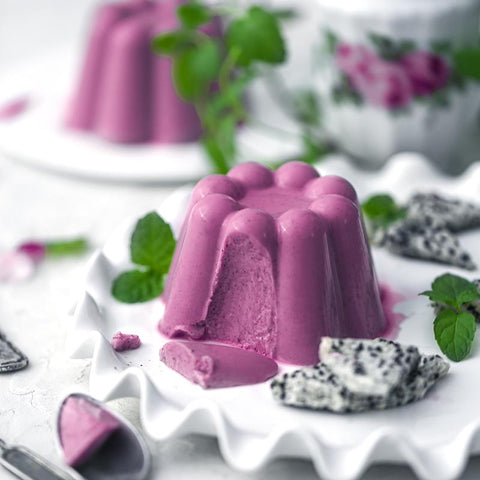 Directions
1. To make paste; mix Suncore Foods® Cerise Prickly Pear Powder & Suncore Foods® Pink Pitaya Powder with water until well incorporated, set aside.

2. Place all ingredients in a small saucepan including the paste. Cook mixture on medium low heat until sugar and agar agar has completely dissolved. Make sure to stir mixture constantly.

3. Bring mixture up to a boil; for about a minute. Turn the heat off.

4. Stain mixture through a fine mesh shift to discard lumps and bubbles.
Pour directly to the moulds.

5. Let them chill in the fridge for at least 3 hours before serving.

6. Serve with Suncore Foods® White Dragon Fruit Chips; and more fresh fruits.

7. Enjoy!
---