Emerald Pandan Melon Pan
Delicious snack for any time! This lovely Emerald Pandan Melon Pan is a perfect combination of soft, sweet bread with a sugary, crisp, almond cookie crust! The cookie crust complements soft, warm bread, making you munch on these non-stop. Add a dash of color with Suncore Foods® Emerald Pandan Leaf Powder to achieve this delightful, calming green hue. It's such a tasty treat for your tummy, and don't forget to add some fun to your table with our powders. Get bread, forget the rest!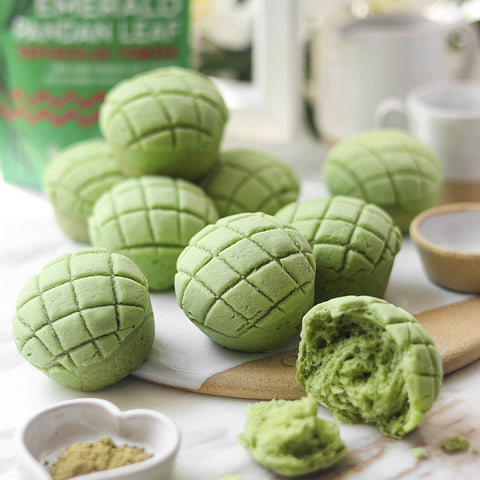 Directions
1. Cookie Dough — In a mixing bowl, whisk butter, sugar until creamy. Add flour, Suncore Foods® Emerald Pandan Leaf Powder and milk, lightly mix with a spatula until all the flour is thoroughly mixed (not to overmix the dough). Divide dough into 12 pieces, roll into balls. Cover with plastic wrap. Refrigerate until needed.
2. Bread Dough — In a stand mixer, add all ingredients except for butter. Mixing on low-medium speed with the hook attachment until the dough comes together, about 10 mins. Add butter, a few pieces at a time. Scrape down the bowl. Continue to kneading on medium speed for 10 mins until the dough is smooth.
3. Cover let them proof for 1 hour until doubled in size.
4. Divide dough into 12 pieces, Shape each dough piece into a ball. Make sure the bottom is tightly closed.
5. Assemble — Remove cookie dough from refrigerator. Gently roll out the dough until it is large enough to cover the bread rolls. Place cookie dough over bread rolls. Gently score the cookie dough into some sort of criss-cross pattern. Place buns into muffin pan, cover and allow to rest for 30 mins.
6. Bake at 180c for 18-20 mins. Serve warm.
---