Dreamy Pink Pitaya Coconut Jelly Tart
A stunning sweet treat that every mom deserves — This Dreamy Pink Pitaya Coconut Jelly Tart will remind our moms how special she is and will surely have Mom going for seconds! Featuring our Suncore Foods® Pink Pitaya Powder in the filling to achieve the pop of pink color and topped it off with Suncore Foods® Fig Chips & White Dragon Fruit Chips. So grab a spatula, get into the kitchen and roll out the sparkling pink carpet for your mom by whipping up this scrumptious dessert.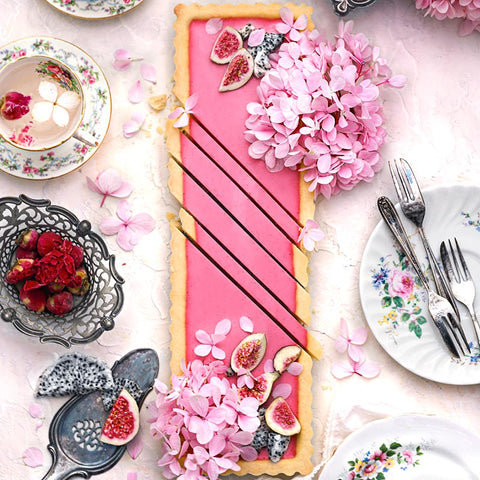 Directions
1. To Make the Crust — Place all ingredients in a food processor; pulse until you get we sand texture. Add in soft butter; continue to pulse until mixture becomes a dough form. Transfer the dough directly to tart pan & shape well. Once ready, place it in the freezer for 15 minutes. Preheat the oven to 175 degrees Celsius. Before baking, piece the bottom of the crust with a fork. Bake it for 15 minutes. Once done, let it cool on a wire rack while you prepare the filling.

2. To Make the Filling — Place coconut milk, Suncore Foods® Pink Pitaya Powder, agar agar and sugar in a small saucepan. Mix the mixture with a wire whisk to combine everything together. Cook on medium heat until mixture comes to a simmer. Turn the heat to low and continue to cook for couple more minutes.Turn off the heat. Stir in coconut water and plant milk. Shift the mixture directly to a large measuring cup to discard the granules and bubbles. Let it cool slightly before pouring into the tart shell.
---