Diamond Matcha Prickly Pear Popsicles
Popsicles are one of the easiest desserts you can make with just a few minutes of prep time! Just mix and blend, freeze, then boom! A beautiful, icy sweet treat in your hand! Homemade popsicles are one of our favorite things to eat because we can control what goes into them and have any flavor we can imagine! These Diamond Matcha Prickly Pear Popsicles are a magnificent blend of the earthiness of matcha, the watermelon and candy sweetness of prickly pear, and the sweet-tart flavor of pineapple. Fruit punch and a matcha smoothie on a stick! It's fun to experiment and explore what flavor and color combinations go well together, especially if you have a funky, cool mold perfect for any upcoming celebrations.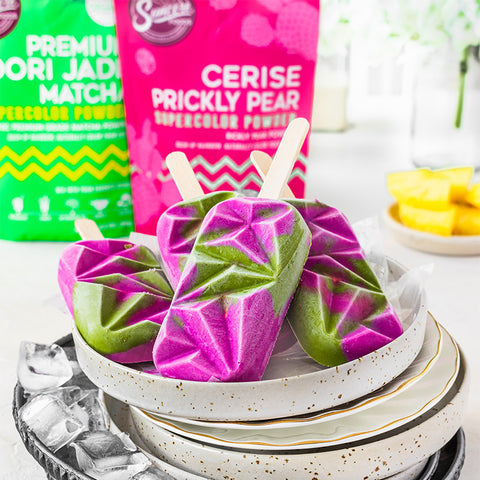 Directions
1. Place all ingredients in a blender and blend until smooth and very well combined.
2. Divide mixture into 2 bowls and mix in 1 Suncore Foods® Powder into each bowl. Alternatively, remove half the mixture from the blender and set aside. Mix in 1 Suncore Foods® Powder to the blender and blend again until well combined. Rinse blender and repeat this process for the remaining mixture mixing in the 2nd Supercolor.
3. For Flat Horizontal Popsicle Molds – Assemble into molds, one mold at a time. Pour small amounts of 1 Supercolor mixture into 2-3 different areas of the popsicle mold. Filling in the empty space with the 2nd Supercolor mixture. Repeat this process for each mold.
4. For Vertical Popsicle Molds – Pour equal amounts of 1 Suncore Foods® Powder mixture into each mold and freeze for 20 minutes until the mixture lightly solidifies. Follow the same process and pour the 2nd Suncore Foods® Powder mixture into each mold.
5. Freeze overnight and allow the popsicles to thaw for 5 minutes before removing from molds and serving.
---