Creamy Cauliflower Rainbow Soup
It's soup season! Bring on all of the soup-er cozy bowls! We're kickin' off this season with a Creamy Cauliflower Rainbow Soup that looks like confetti in a bowl. Gina added a dash of an assortment of Suncore Foods® Powders to give this soup the perfect pop of color.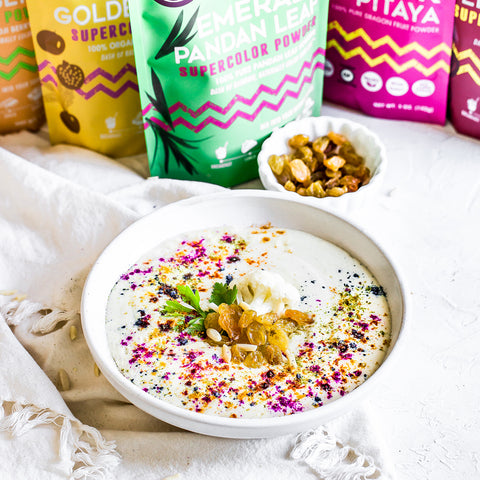 Directions
1. In a large saucepan, steam your cauliflower and potato with a little bit of water on the bottom for about 15 minutes until soft.
2. Add almond milk, broth, olive oil, salt, leek, almonds, and the cauliflower potato mixture to your blender (in that order!) and blend on high until smooth. If you don't have a Vitamix A3500 machine, you may need to reheat and blend again.
3. Spoon your soup into bowls, sprinkle some of each Suncore Foods® powder, then garnish with golden raisins and slivered blanched almonds
---