Cranberry Pink Pitaya Red Beet White Chocolate Tart
It's beginning to look a lot like Christmas especially with a slice of Christmas magic on a plate. Explosion of fruity cranberry tartness combined with our Suncore Foods® Powders and the delightful sweetness of white chocolate, this Cranberry Pink Pitaya Red Beet White Chocolate Tart completely captures the festive spirit.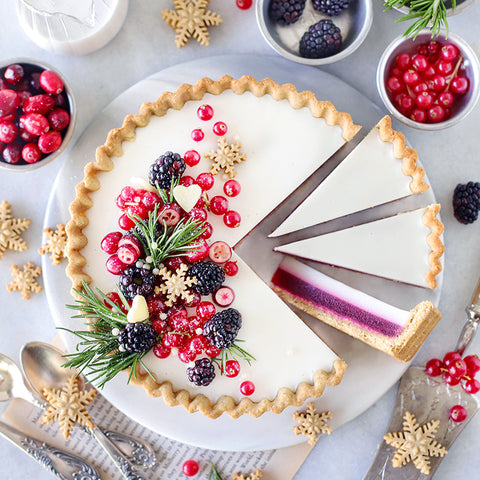 Directions
1. Crust – Preheat oven to 180° C. Chuck all the ingredients in a food processor. Pulse until you get a moist, moldable mixture. Firmly press it into the bottom and sides of a tart tin. Bake for 15 mins (or until the crust turns golden brown) Transfer to a wire rack after it cools in the tin.

2. Filling – Bring cranberries and water to boil in a saucepan. Stir occasionally. Reduce heat. Let the mixture simmer for 6-8 mins until it thickens and the cranberries burst. Strain the mixture through a sieve to remove cranberry skin and seeds. Boil your cranberry juice with maple syrup and then whisk in Suncore Foods® Powders and agar. Whisk vigorously until agar dissolves. Pour filling into a cooled tart. Chill for 4 hrs (or until solid)

3. Meanwhile, make your white chocolate layer. Combine chocolate and coconut cream in a saucepan. Let it simmer and boil over low heat. Add agar and bring the mixture to a gentle simmer. Stir constantly. Keep it on heat for approx. 5 mins until the agar dissolves.

4. Pour mixture into the tart.

5. Refrigerate to set (approx. 4 hrs)

6. Dig in! Each bite sweeps you into a magical, flavorsome journey.
---