Cranberry Hemp Chia Seed Pancakes
Pancakes or waffles, waffles or pancakes? Today we're choosing pancakes! These Cranberry Hemp Chia Seed Pancakes are definitely a stack above the rest!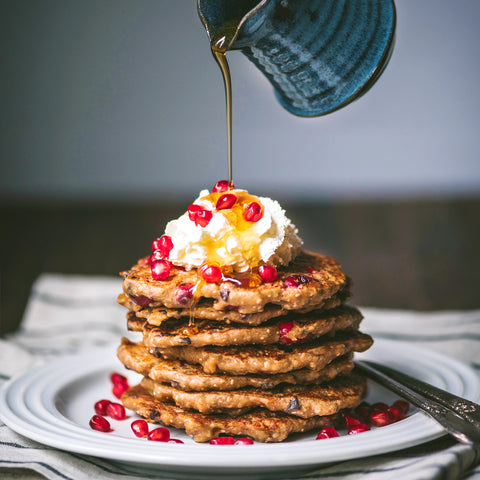 Directions
1. Make chia "eggs" and let sit 10-15 min to thicken, stirring 2-3 times while mixture is thickening.
2. Add oat flour, Suncore Foods® Hemp Seeds, cinnamon, and xanthan gum to a medium bowl and whisk to combine.
3. In a separate bowl, use a hand mixer to beat together bananas, coconut oil, agave syrup, non dairy milk, vanilla and chia eggs. Slowly add dry ingredients until well incorporated.
4. Fold in cranberries and Suncore Foods® Cacao Nibs.
5. Heat non stick pan over medium heat and grease with coconut oil. Measure out 1/4 cup of batter per pancake. Cook about 4-5 minutes on each side or until golden brown. Enjoy topped with coconut whipped cream, maple syrup, and chopped nuts.

---