Colorful Foliage Pasta
Look at how pasta-tively beautiful and delicate this pasta is...it's so magical! With a soft texture and playful, vibrant pattern, it looks like it is printed out of silk. Shhhh, but this is no magic! With Suncore Foods® Powders (Autumnal Baked Sweet Potato Yam, Midori Jade Matcha, Purple Sweet Potato, and Red Beet), you can magically create this stunning pasta! A meal is not just a meal--it helps create bonds between loved ones, so why not make it even more fun with wonderful colors. Head to SuncoreFoods.com to find the recipe along with our delightful Suncore Foods® Cosmos Red Cabbage, Ebony Carrot, Midori Jade Matcha, and Yellow Goldenberry Powders. Have fun with all of the pasta-bilities.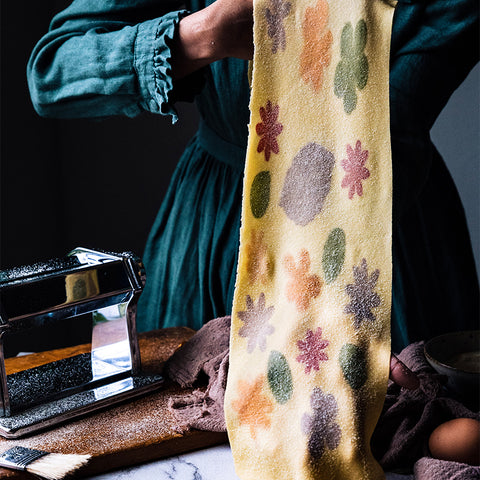 Directions
1. Base Dough — Add all ingredients into a bowl of a stand mixer and mix on medium speed for 8 minutes adding a tsp of water as needed. Cover dough in cling wrap and let rest at room temperature for 1 hour.
2. Colored Dough — Prepare each of the differently colored dough separately. For each colored dough, mix all ingredients together and knead for 10 minutes by hand or 8 minutes in a stand mixer at medium speed until smooth. Let rest for 30 minutes.
3. Roll out the colored doughs to a thickness of 1-2 mm and cut shapes of leaves and flowers using pie dough cutters. Keep covered under cling wrap to prevent drying as you work on the main dough.
4. Roll out the base dough into a long sheet to a thickness of 2mm. Place the cut leaves and flowers on half of the rolled sheet. Fold over the other half to cover and lightly press together to make it adhere. Roll out to a thickness of 2mm. For fettuccine, fold dough along the length while generously dusting with semolina to prevent sticking and cut to strips the width of ½ inch. Shake out all the cut strips and cook pasta in salted boiling water until al dente. Fresh pasta cooks very quickly so keep an eye on it. Serve with your favorite pasta sauce.
---