Christmas German Cookie Cake
Our hearts automatically grew three sizes and then some after seeing this unbelievably cute Christmas Cookie Cake! Who could ever resist the sweetness and charm of the little bears and chick and their smiles. If you could move past those innocent little faces, you will find that they are made of some of the most scrumptious butter cookies. You may know them as melting moments; they are soft and buttery and just--you guessed it--melt in your mouth the moment it touches your tongue. And with Suncore Foods® Aqua Blue Spirulina, Red Beet, and Yellow Goldenberry Powders, you can create a whole festive color palette! If you head to SuncoreFoods.com, you can find the recipe and create this amazing dessert full of Christmas Cheer with a special surprise inside the cookies! (Spoiler Alert: it's chocolate)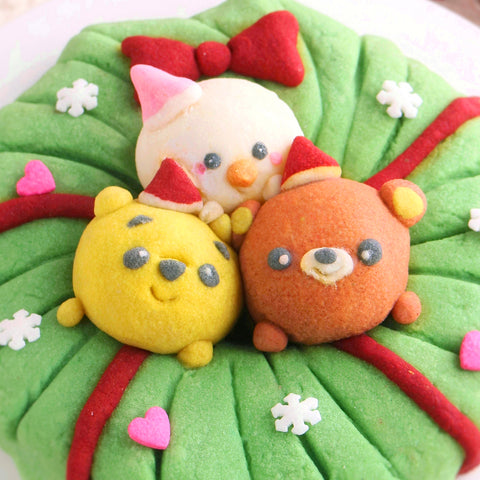 Directions
1. Beat butter with powdered sugar till creamy. Fold in sifted flour, potato starch, salt and vanilla. Use a spatula to mix till a soft dough comes together.
Divide the dough into four equal parts: green, plain, yellow and brown. Add in the Suncore Foods® Powders and fold till desired colors.
2. Christmas Wreath — Flatten the green dough into a rectangle using a rolling pin. Place the chocolate chips in the middle and roll into a log. Shape into a donut by joining the two ends. Make cuts using a knife to create the bundt wreath shape.
3. Yellow Bear, Brown Bear and Snowman — Divide the plain and colored dough into 10g balls. Flatten a ball into a circle using a rolling pin and place the chocolate fillings in the middle. Roll into a ball and add on facial features.
4. Features/decorations: use two of the plain 10g balls and color them black and red using charcoal and Suncore Foods® Red Beet Powder. Use the dough to make facial features and red decorations on the Christmas wreath.
5. Bake at 160oC for 20+mins till crisp. Decorate with more sprinkles using melted chocolate. Enjoy.
---