Chocolate Donuts with Matcha & Elderberry Glaze
It's a donut party! Sweet treats all around! Are you team matcha or team elderberry? Or are you like us and want to sneak a bite of each? Superfied your day with these delectable Chocolate Donuts with Matcha & Elderberry Glaze & enjoy all of them your heart desires!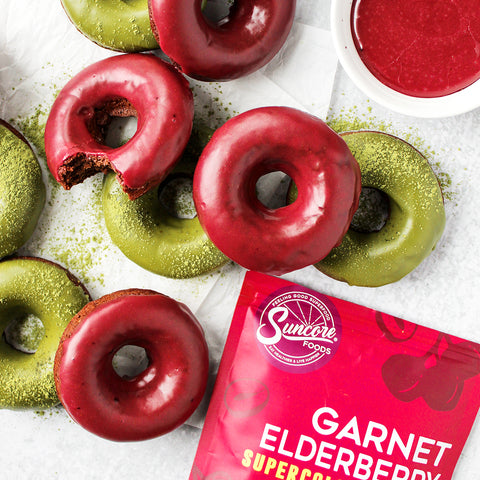 Ingredients
Makes 12 Donuts

Chocolate Donuts:
1¼ cups all-purpose flour
½ cup protein powder of choice
¾ cup cocoa powder
1 tsp baking powder
½ tsp baking soda
½ tsp salt
¼ cup coconut sugar
¼ cup honey
½ cup hemp milk (blend ½ cup water with 2 tbsp Suncore Foods® Hemp Seeds)
2 flax eggs (2 tbsp flaxseed meal + 6 tbsp water)
1 tsp vanilla extract
3 tbsp vegetable oil
1 cup unsweetened applesauce

Matcha Glaze (for 6 donuts):
1½ cups powdered sugar
¼ tsp vanilla extract
1 tsp Suncore Foods® Midori Jade Matcha Powder
1-2 tbsp plant-based milk or water

Elderberry Glaze (for 6 donuts):
1½ cups powdered sugar
¼ tsp vanilla extract
1½ tsp Suncore Foods® Garnet Elderberry Powder
1-2 tbsp plant-based milk or water
Directions
1. Preheat your oven to 350°F and spray your donut pan with olive oil. Prepare your flax eggs by combing the flaxseed meal and water; let thicken for at least 5 minutes. Make your hemp milk by blending the Suncore Foods® Hemp Seeds and water; set aside.
2. In a large bowl, sift the flour, protein powder, cocoa powder, baking powder, baking soda, and salt; set aside.
3. In a medium bowl, combine the coconut sugar, honey, hemp milk, flax eggs, vanilla extract, and oil. Stir in the applesauce. Add liquid ingredients to dry and gently combine until no flour pockets remain.
4. Fill a large ziplock bag or pastry bag with about half of the batter. I like to place my bag in a glass, turning the sides over the glass edge, and fill it with batter. Pipe batter into each donut well, filling nearly to the top. Smooth out the batter if necessary.
5. Bake donuts at 350°F for 10-12 minutes or until a toothpick inserted into a donut comes out with a few crumbs. Allow donuts to cool in the pan for 5 minutes before removing to a cooling rack.
6. Once your donuts are cool, you can begin making your glaze. In a small saucepan, combine the powdered sugar, vanilla, and Suncore Foods® Powders. Add milk, 1 tsp at a time (3 tsp = 1 tbsp), until your glaze is thin enough to dip - when you drizzle the glaze, the "ribbons" should hold shape for a couple of seconds.
7. Heat your glaze over low heat until just warm to the touch, stirring continuously. Remove from heat and immediately begin dipping the donuts. Don't worry about tapping excess glaze off the donuts. You want to dip and immediately turn the donut over and place it back on the cooling rack. The glaze in the pan may start to crust on the top. Just stir it and keep going, but you'll want to move quick! You will have leftover glaze, but we've found it's easier to dip the donuts if there are more glaze to work with. Store leftover donuts in an airtight container in the refrigerator.
---