Butterfly Pea Flower Enchanting Fairy Cake
We are immensely obsessed with this cake! Isn't it incredible how something as simple as a color can change your whole perception of a cake? Colors are what the Suncore Foods Family is all about and it's what we celebrate and appreciate of its beauty. Incorporated Suncore Foods® Aqua Blue Spirulina & Blue Butterfly Pea Powders to create this enchanting gentle blue hue. It's a kind of grown up "playing with food" we wholeheartedly approve of!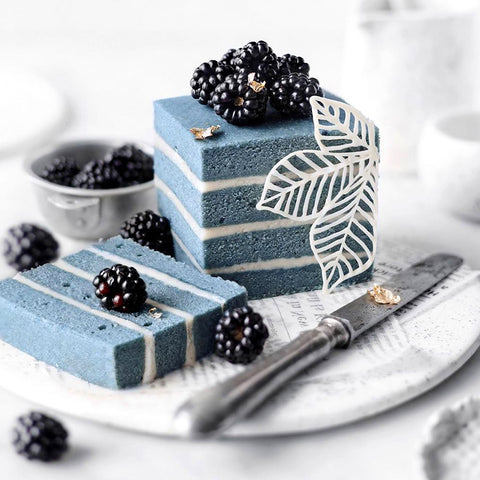 Ingredients
Dry Ingredients:
2 1/2 cups all purpose flour
2/3 cup sugar of choice
1/2 tsp baking powder
1/4 tsp baking soda
1/4 tsp salt

Wet Ingredients:
1/2 cup dairy free yogurt
1 cup dairy free milk
170g dairy free butter melted
2 tsp vanilla extract
3 tsp Suncore Foods® Blue Butterfly Pea Powder dissolved in 3 tsp water
1 tsp Suncore Foods® Aqua Blue Spirulina Powder dissolved in 1 tsp water

White chocolate cream:
60g full fat canned coconut milk
100g dairy free white chocolate, melted
140g dairy free butter
1 cup powered sugar
Directions
1. To Make the Cake – In a mixing bowl, combine dry ingredients. In a medium bowl mix together wet ingredients. Gently fold the mixture with a spatula to incorporate. Transfer batter to prepared small square cake pan. Tap gently against the counter to release air bubbles.
 Bake at 175c for 25-30 mins or until a toothpick inserted into the center comes out clean. Remove pan from the oven and let cool in pan for 10 minutes on a wire rack. Invert cakes onto a rack with parchment paper and cool completely.
2. To Make the Cream – Combine melted white chocolate and coconut whipping cream, folding them together until combined. Refrigerate until solid, 4 hours or overnight. Combine butter, 1/2 cup of white chocolate cream mixture in the stand mixer bowl with the paddle attachment. Whip on medium to high speed for 1 min.
 Stop mixer and add the sifted powdered sugar. Mix on low speed until incorporated, scrape the bottom and sides of the bowl and then mix on high speed until smooth. (Add more powdered sugar if frosting is too thin or another tablespoon of white chocolate cream if frosting is too thick).
---