Blackberry Blueberry Curd Tarts
At the holidays, it's all about indulging that sweet tooth and with these adorable tarts, you can be satisfied your sugar cravings with real fruits combined with our amazing Suncore Foods® Powders, and many more! Truly you will simply fall in love again and again.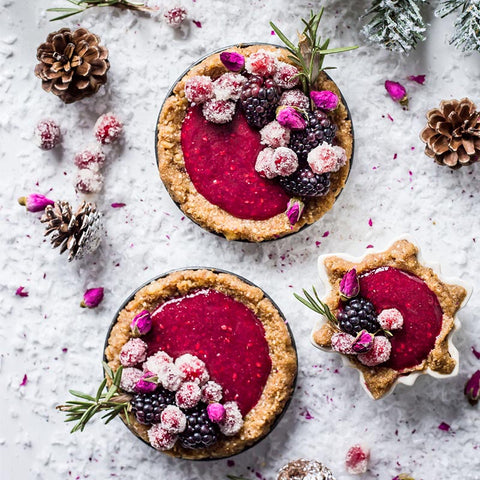 Directions
1. Sugared Cranberries — Please make the sugared cranberries night before. In a medium saucepan, bring water to a boil and stir in 1 cup of sugar. Stir until the sugar dissolves to make a syrup. Place the cranberries in a bowl and pour the syrup over the top and let the cranberries soak for 4 hours or overnight. Drain the cranberries. Pout the other half cup of sugar in a bowl and toss and drained cranberries in the sugar, coat well. Place on a parchment lined baking sheet and allow them to dry.
2. Blackberry Blueberry Curd — Make your curd filling first. Start by blending your blackberries in a food processor/blender until smooth. Add your maple syrup and nutmeg to the processor/blender as well and blend until very smooth.   In a small bowl, whisk together the lemon juice and arrowroot powder until smooth, then add it to the peach mixture, blend again. Pour the mixture into a medium saucepan and cook over medium heat until the mixture starts to boil, stirring constantly. Cook for a few more minutes, continuing to stir until it thickens and then pour it into a glass container. Whisk in the Suncore Foods® Indigo Blueberry Powder and allow the mixture to cool at room temperature. Once cool, cover and store in the fridge until you're ready to use (or overnight).
3. Crust — Place your dates in a glass bowl/measuring cup and fill with water to cover the dates. Microwave for about 2 minutes to soften the dates. In your food processor, combine all the crust ingredients including the drained dates. Blend until the crust is well combined. Firmly press the crust into tart tin(s).
4. Tarts — Pour your curd filling in the tart shells and refrigerate/freeze until the curd sets up. Decorate with sugared cranberries, Suncore Foods® Rose Buds, and fresh blackberries.  
---