Autumnal Baked Sweet Potato Yam Pumpkin Milk Buns
Let's give 'em pumpkin to talk about! Give thanks and pass these heavenly-made baked sweet potato yam pumpkin buns. Using Suncore Foods® Autumnal Baked Yam Powder, these soft, sweet milk buns not only look gorgeous but are also filled with delightfully delicious because we know how much we care about what goes inside our bodies. Let's bake the world a better place! These adorable, warm, golden buns will definitely steal the show on your Thanksgiving table!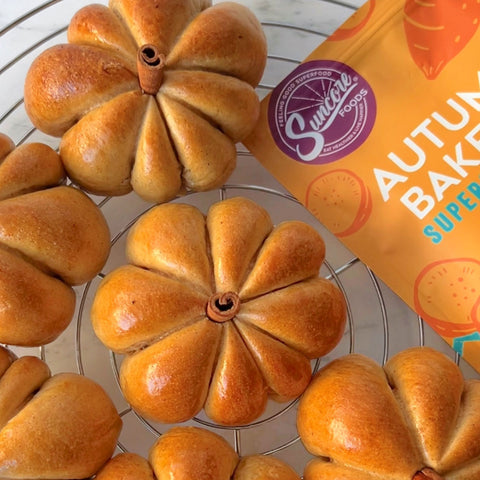 Ingredients
Pumpkin Spice Milk Buns:
210ml warm milk
2 tbsp brown sugar
3g instant yeast
340g bread flour
1 tsp salt
2 tsp pumpkin spice
2 tsp Suncore Foods® Autumnal Baked Sweet Potato Yam Powder
1 tsp safflower or turmeric powder
42g softened unsalted butter
Milk or Egg Wash:
1 tbsp milk OR
1 tbsp milk + 1 egg yolk
Cinnamon sticks split in half
Directions
1. Bloom yeast by combining with milk and sugar. Stir and set aside for 10 mins.
2. In a stand mixer bowl, combine flour, salt, Suncore Foods® Autumnal Baked Sweet Potato Yam Powder, and give it a quick mix. Add in yeast mixture and knead on med-low with hook attachment until there's no visible dry flour. Add butter and knead on med-high 8-10 mins until dough is smooth. Form into a ball, cover, and let proof for 1 1/2 hours or until it's doubled in size.
3. Punch out all bubbles in dough and form into a log. Cut into 6-7 even pieces (85-90g each) and roll each piece into a tight ball. Make sure seams are closed.
4. Using a long piece of cooking string, find the halfway point and place on top a dough ball. Flip it over and bring string ends together. Create a cross at center of the dough (bottom-side) by crossing them, then flip dough again until it's right-side up. Repeat this until you have divided dough into 8 equal pieces. Double tie at the top when done and cut off any excess string. Finish this with remaining dough balls, cover, and let proof for 1 hour or until doubled in size. Preheat oven to 200°C (390°F).
5. Brush on milk or egg wash and bake for 12-15 mins or until golden. Cut string ties and when buns are cool enough to touch. Brush on melted butter, top with 1/2 cinnamon stick. 
---