Warm Cranberry Apple Goji Granola Crisp
It's the 2 week countdown to Thanksgiving. Are you looking forward to the feasts ahead? We are! And we may have just found the perfect seasonal treat to hold you over while the feast is being prepared. A nice bowl of Warm Cranberry Apple Goji Crisp with dairy-free ice cream! Just make sure you save some room for dinner! Stock up on Suncore Foods® Goji Berries so all you need to do is snag yourself some fresh cranberries, apples, and spices while the feast is being prepared.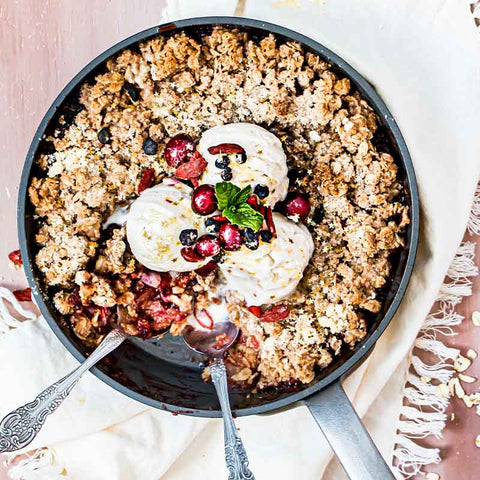 Ingredients
Granola Crisp:
1 cup fresh cranberries
3 medium apples, diced (about 2 cups)
½ cup Suncore Foods® Goji Berries
1 tsp coconut oil
3 tbsp agave/maple syrup
1 tsp lemon juice
¼ tsp nutmeg
¼ tsp cardamom
½ tsp cinnamon
Pinch salt
2 tbsp water

Topping:
1 cup gluten-free old fashioned oats (not quick oats)
½ cup almond flour
Pinch salt
1 tsp cinnamon
⅓ cup maple syrup
3 tbsp plant butter
Directions
1. Soak the Suncore Foods® Goji Berries in water until they plump up a bit, about 5-10 minutes.
2. Preheat your oven to 350 degrees
3. In a medium skillet, heat 1 tsp coconut oil over medium heat
4. Add the cranberries and sauté for a couple of minutes, then add the apples.
5. Drain the goji berries and add them to the skillet.
6. Add the remaining filling ingredients to the skillet, stir to combine, and sauté for about 5-7 minutes until it starts to turn bubbly.
7. Meanwhile, add all the dry topping ingredients to a large bowl, stir to combine.
8. Then add the maple syrup and butter and stir the mixture until you achieve a crumble-like consistency.
9. At this point, if your skillet is oven-safe, you can simply add the topping on top of the filling mixture and bake in your oven for about 15 minutes, until the top is golden brown.
10. Alternatively, spoon the filling into a baking dish or ramekins and then top with the topping and bake the same.
11. Serve warm with dairy-free vanilla ice cream.
---