Red Beet Quinoa Cookie Bars
These Red Beet Quinoa Cookie Bars are the perfect sweet treat! Not to mention, with Valentine's right around the corner these beet-u-tiful bars are the perfect Valentine's treat!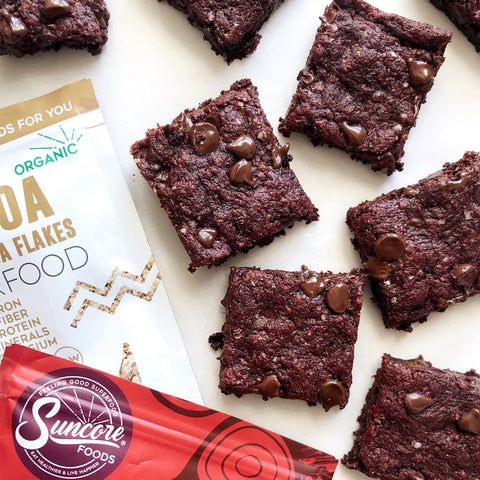 Directions
1. Preheat your oven to 350°F and line an 8x8" baking dish with parchment paper - leave some overhanging as tabs to help you pull the cookie bar out later. Prepare your chia egg by combining the Suncore Foods® White Chia Seeds and 3 Tbsp of water in a small bowl; set aside to thicken.
2. In a medium bowl, use a large wooden spoon or hand mixer to combine the solid coconut oil and coconut sugar, making sure all lumps of coconut oil have been incorporated. Add the chia egg, lemon juice, and vanilla extract and mix until combined. Sift in the flour, cocoa powder, Suncore Foods® Red Beet Powder, baking powder, baking soda, and salt. Use a spoon to mix until nearly combined. Add the Suncore Foods® Snow Quinoa Flakes and chocolate chips and mix until combined.
3. Dump the cookie dough into your prepared baking dish and use your fingers or a flat kitchen object (like a measuring cup) to firmly press the dough into the dish. Top with extra chocolate chips, slightly pressing the chips into the cookie dough. Bake at 350°F for 15 minutes.
4. Allow your cookie bar to cool completely before removing from the baking dish. Carefully slice into 16 squares, wiping your knife between each cut for a cleaner look. Enjoy!
---