Cherry Cerise Prickly Pear Magnums
It's National Chocolate Ice Cream Day and we are celebrating with this delicious treat! These homemade vegan Cherry Cerise Prickly Pear Magnums are ahhhhmazing on a hot summer day! They are creamy, rich, slightly tangy, and finish with a satisfying crunch from the chocolate shell. The best part is: it's dairy-free and vegan. Flip it and reverse it with cherry ice cream and chocolate on top! Add some Suncore Foods® Cerise Prickly Pear Powder to create this lovely pink color and Suncore Foods® Rose Petals & Cacao Nibs for the finishing touch.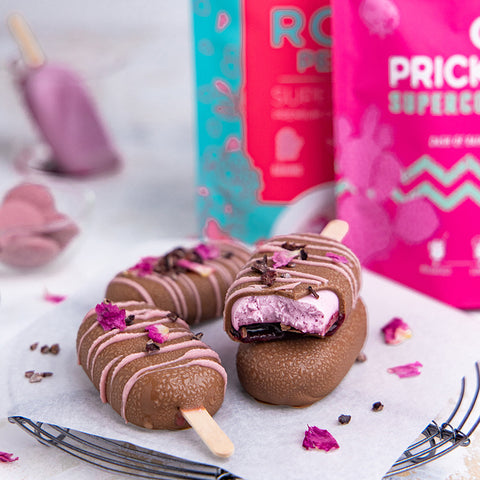 Directions
1. To Make Cherry Ice Cream — Blend all the ingredients together. Fill the mini magnum molds, leaving a little space to add the cherry syrup. Freeze for at least 4 hours. Add about 1/3 tbsp of cherry syrup on top of the ice creams and place back into the freezer for at least 3 hours (or overnight).

2. Cherry Syrup — Combine cherries, water and maple syrup in a saucepan and heat on medium until the cherries are very soft. Blend with an immersion blender, pass the mixture through a sieve and place back into the saucepan. Heat over medium heat, add vanilla and let simmer until it reduces and starts to thicken. (15 min). Let cool down completely.

3. Melt chocolate of choice and place in a tall glass. Dip each magnum into the chocolate. Enjoy immediately or keep in freezer to enjoy later!
---