Vanilla Maple Custard Tart with a Quinoa Flake Almond Crust
The perfect winter festive treat for any celebration!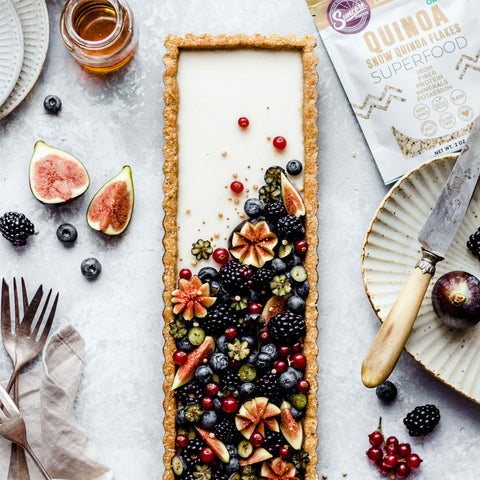 Ingredients
Crust:
50g Suncore Foods® Snow Quinoa Flakes
1 cup almond meal
¼ cup gluten free oat flour
¼ cup coconut oil
2 tbsp pure maple syrup
Filling:
1 can full fat coconut milk
½ cup almond milk
¼ cup pure maple syrup
2 tsp pure vanilla bean extract
2 tbsp cornstarch
1 tsp agar agar powder
Directions
1. Preheat oven to 180ºC (356ºF). Grease a tart pan. Set aside.
2. In a bowl, combine Suncore Foods® Snow Quinoa Flakes, oat flour, almond meal, coconut oil, and maple syrup. You should get a moist mixture than can be easily moulded.
3. Firmly press into bottom and up the sides of tart tin. Bake for 12-15 mins until crust is golden brown. Transfer to a wire rack and let it cool.
4. Pour the coconut cream, milk, maple syrup and vanilla bean paste into a medium pan.
5. Place pan on the stove on low heat. When the mixture becomes warm, add the cornstarch and agar agar. Stirring constantly, cook until agar completely dissolve.
6. Allow to boil for approximately 30 to 60 seconds. Pour mixture into cooled tart and refrigerate at least 4 hours to set. Top with fresh fresh, berries and serve.
---