Pomegranate Red Beet Glaze Vanilla Chocolate Mousse
Can you take your eyes off this stunning Vanilla Chocolate Mousse with Pomegranate Red Beet Glaze? Because we can't! This delectable treat is made using Suncore Foods® Red Beet Powder and Ruby Red Radish Powders to create the gorgeous color! It's not only beautiful on the outside but on the inside too. This is a dessert that everyone can enjoy all year long.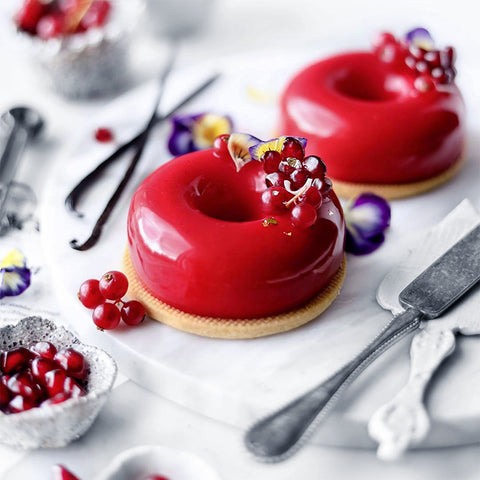 Ingredients
Mousse:
1 cup coconut whipped cream
120g dairy free white chocolate, melted
2 tbsp pure maple syrup, optional
1 vanilla bean

Glaze:
1/2 cup pomegranate juice
1/2 cup coconut condensed milk
1 cup dairy free white chocolate, chopped
1/4 cup sugar of choice
1/2 tsp agar powder
2 tsp Suncore Foods® Red Beet Powder dissolved in 2 tsp of water
1 tsp Suncore Foods® Ruby Red Radish Powder dissolved in 1 tsp of water
Directions
1. Mousse – Split the vanilla bean down its length huh b the paring knife. Scrape out the seeds. Set aside. Scrape out the coconut cream from the coconut whipping cream (leave the liquid behind) Beat cream with a mixer until creamy. Then add the maple syrup, melted white chocolate and vanilla seeds. Mix to incorporate. Pour mixture into silicone molds. Place in the freezer and freeze until solid.
2. Glaze – In a saucepan, add pomegranate juice, sugar, condensed milk and heat over medium-low heat, stirring occasionally. When mixture begins to simmer, add the dissolved Suncore Foods® Red Beet Powder, Suncore Foods® Ruby Red Radish Powder, and agar powder. Stir until agar completely dissolve (about 3 mins). Then whisk in chocolate, stir until melted. Let mixture simmer for 1 min on low. Take it off the heat. Pass the glaze through a fine strainer to remove any lumps. Leave the glaze to cool. Once the glaze is ready, pour it over the frozen mousse. Leave the glaze to set for few minutes before using a hot knife to remove the drips.
---