Red Beet Glazed Tofu Skewers with Pandan Rice
We have just the delicious option for cooking that may be already in your pantry at home. Look at how the glaze on these skewers GLOWS. Our tummies are rumbling for these Tofu Skewers with Pandan Rice! Added Suncore Foods® Red Powder into the delicious tofu skewers and infused Suncore Foods® Emerald Pandan Powder into the warm, steamy rice. Who wants a bite?!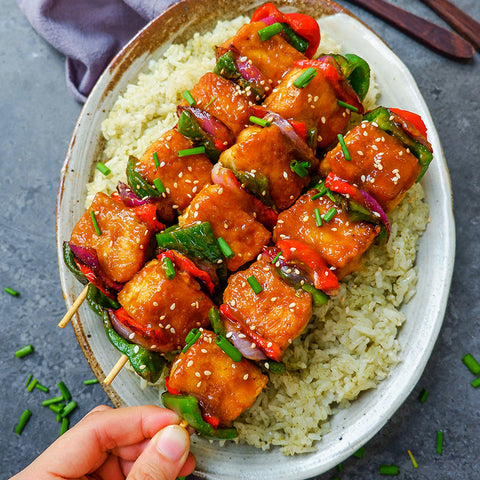 Ingredients
Pandan Rice:
1/2 cup uncooked white rice
1/2 cup uncooked glutinous white rice*
1 tsp Suncore Foods® Emerald Pandan Leaf Powder
3 cups water *Note: you can opt to use a total of 1 cup regular rice and then lessen water to 2 cups
Tofu Skewers:
2 200g blocks tofu extra firm tofu
1/4 cup cornstarch
1 tsp salt
2 bell peppers
1 large red onion
Canola or other neutral oil, for cooking
5 barbecue sticks, soaked in water (to prevent from burning) 
Sesame seeds and spring onions, for garnishing
Red Beet Sauce:
1 tbsp Suncore Foods® Red Beet Powder
2 tbsp maple syrup
1 tbsp soy sauce
1/4 cup + 3 tbsp water
1/2 tbsp cornstarch + 2 tbsp room temp. water, mixed into a slurry
Directions
1. In a rice cooker, add in the rice and water. Mix in the powder using a spoon. Leave to cook.
2. Drain excess liquid from the tofu blocks by wrapping them in towels and then placing a heavy flat surface (such as a pan or plates) on top. Leave to sit for 10-12 minutes until the liquid has been absorbed by the towels. Slice tofu into 1 to 1.5-inch thick cubes. Mix cornstarch and salt into a plate. Coat the tofu in the cornstarch mixture. Repeat for the rest of the tofu. Slice the bell peppers and onions into small squares/rectangles around the same size as your tofu. Arrange the bell peppers and tofu into the sticks. Heat a frying pan. Add in enough oil to cover the surface of the pan. Add in the skewers. Cook each side on medium heat until tofu is golden brown and crisp. Repeat for each side. After each side is cooked, brush with the sauce while still hot (so the tofu can absorb the sauce). Enjoy while hot with rice!
3. Add all sauce ingredients in a sauce pan. Leave to simmer over medium heat and mix until well combined. Once it boils, add in the cornstarch slurry. Mix until thick. Turn off heat and set aside. Storage tip: Store sauce in an air tight container and refrigerate for up to 1 week.
---