Red Velvet Beet Cake
Say hello to this jaw-dropping beet-utiful vibrant color Red Velvet Beet Cake and just in time to make your Valentine's Day just that much more un-beet-lievable special!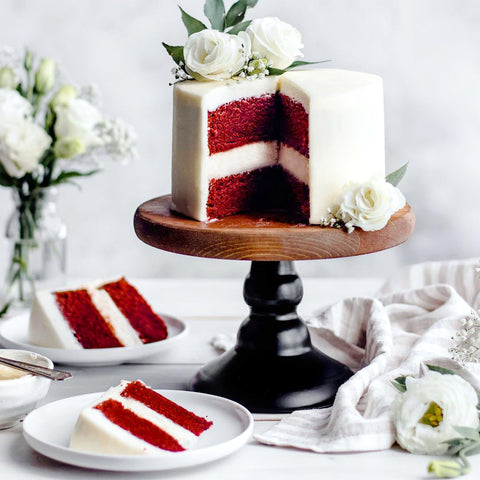 Ingredients
Makes 6 Inch Cake or 12 Cupcakes
4 tsp Suncore Food® Red Beet Powder
2 cups unbleached flour
1 cup sugar
4 tsp baking powder
1 tbsp cocoa powder
3/4 cup coconut oil or vegetable oil
1 tbsp apple cider vinegar
1 3/4 cups warm almond milk
1 tsp vanilla bean extract
1/2 tsp salt 
Directions
1. Preheat oven to 170c. Grease two 6 inch pans. Dissolve Suncore Foods® Red Beet Powder in almond milk. Set aside.
2. In a large bowl, sift together the flour, sugar, baking powder, salt, and cocoa powder. In another large bowl, whisk together the oil, red beet milk mixture, apple cider vinegar and vanilla. Using a standing mixer, mix the dry ingredients into the wet ingredients until just combined and a smooth batter is formed.
3. Divide the cake batter evenly among the prepared cake pans. Place the pans in the oven evenly spaced apart.
4. Bake for 40-45mins until toothpick inserted in the center of the cakes comes out clean.
5. Remove the cakes from the oven, let cool completely.
6. Frosting cakes with your favourite frosting and enjoy! .
---