Hello French Toast
Let's give a toast to the weekend! Ready for an adventurous Saturday with this full of goodness Hello French Toast! We love to start the day on a high note, this bright, fun yellow made with Suncore Foods® Autumnal Baked Sweet Potato Yam & Yellow Goldenberry Powders is a great way to brighten your day! Sprinkle it with some crunchy deliciousness and fun with our Suncore Foods® Blueberry Puffs. What's not to love?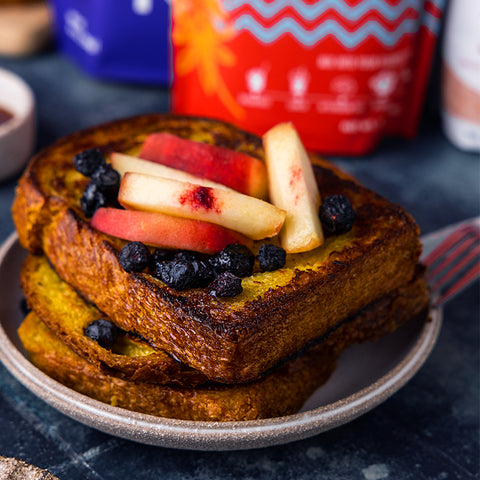 Directions
1. Canary Yellow Safflower Toast — In the bowl of stand mixer, combine warm water, sugar and yeast and set aside for 10-15 minutes, until the mixture is frothy and the yeast is activated. Mix in olive oil on low speed for 30 seconds to a minute. Mix in remaining ingredients on low speed (or at the mixer recommended speed for dough) until the dough comes together and is no longer sticking to the walls of the bowl. Remove dough and form a dough ball. Place the dough ball in a clean bowl, cover and proof the dough for 60-90 minutes. Lightly oil the inside of the bread pan and set aside. Once the dough has risen, punch the air out and using a rolling pin, roll the dough out into a long rectangle, approximately 24" in length and 4-6" in width. Starting from one end, roll the dough inwards forming a rolled dough log. Place the dough log in the bread pan with the crease side facing down. Cover with a kitchen towel and set aside for 1 hour. When ready to bake, preheat oven to 350º F. Brush the dough with plant-milk and bake for 55 minutes. After 35 minutes of baking, cover the bread pan with aluminum foil and continue to bake. Once ready, the top of the loaf should be golden-brown and should sound hollow when you tap on it. Allow the loaf to cool in the bread pan for 15 minutes. Remove the loaf from the bread pan (the loaf should slide out when the bread pan is tilted) and allow it to cool to room temperature before making French toasts.

2. French Toast — Whisk together vanilla oat milk and cornstarch until frothy. Mix in vanilla extract, lemon zest and baking powder. Heat a pan to preference and add butter for cooking. While the butter is melting, submerge a slice of bread into the milk mixture and place it in the pan, over the melted butter. Cook until golden brown on both sides. Add more butter as needed while cooking. Follow the same process till the milk mixture is over. Serve French toasts with a handful of Blueberry Puffs Supersnack, fresh fruit of choice and maple syrup.

3. Cooking Tip — This bread absorbs the liquid very quickly. Use thick slices of bread and submerge the bread for a few seconds only.
---