Ultra Violet Pancakes
Have your tried our Ultra Violet Pancake & Waffle Mix yet? If looking at these pancakes don't make you want to try these at home then we don't know what will. Purple pancakes have become essential in our mornings over here because waking up to these magnificent colors are an instant mood boost! Made this lovely stack of scrumptious pancakes and added some great toppings! The great thing about pancakes is that you can mix and match and add as many toppings as you like to get the perfect combination! How do you like to eat your pancakes?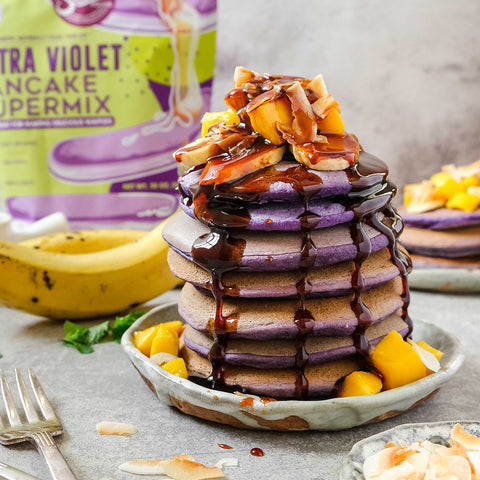 Ingredients
Pancakes:
1 1/2 cup Suncore Foods® Ultra Violet Pancake & Waffle Mix
1 cup plant milk like soy, oat, almond, plus 1-2 tbsp more if batter is too thick
1/2 tsp vanilla extract

Toppings:
Sliced bananas or other fruit of choice
Handful of coconut chips
Syrup 
Directions
1. In a bowl, mix all the pancake ingredients together until smooth. If you find your batter too thick, you can add some more milk.
2. Heat a small non-stick pan over medium. Once hot, pour int around 1/4 to 1/3 cup of the batter. Leave to cook for a few minutes or until the sides start to dry out and bubbles appear. Flip the pancakes over and cook for a few minutes on the remaining side. Repeat this for the rest of the batter.
3. Stack pancakes and top with some bananas or fruit of choice, and some toasted coconut chips, if desired. Enjoy with a generous drizzle of syrup. Enjoy!
---