Power Pink & Ultra Violet Pinwheel Pancakes
Who said pancakes had to be flat? We love how innovative these pinwheel pancakes are! Using our Suncore Foods® Power Pink Pitaya Pancake & Waffle Mix and Suncore Foods® Ultra Violet Pancake & Waffle Mix, and to create these stunning bold pink and purple stripes! We think these are a great breakfast but they can be a snack as well. Sit down, relax, and enjoy a light and fluffy pinwheel pancake!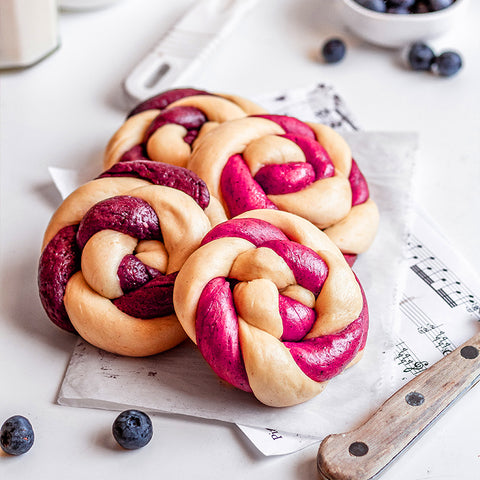 Directions
1. In 3 separate bowls, combine the ingredients for the 3 different doughs and knead until smooth. If the mixture is too dry, add 1 tablespoon of milk at a time until a smooth dough forms. Cover each bowl and let rest for 15 minutes.
2. Divide the purple dough into 2 equal parts, the pink dough into 2 equal parts, and the plain dough into 4 equal parts. Roll each part into a long, thin log -- about the diameter of a finger. Take one colored piece + one plain piece and pinch together the ends. Twist forward at one end and backwards at the other end until evenly intertwined. Roll into a flat circular disk, similar to a whirly lollipop. Repeat for remaining dough.
3. Heat some oil in a skillet and add the pinwheels. Add 1/4 cup water, then cover the pot and steam on medium-low heat. When the water has evaporated, add 1/4 cup water and cover again; repeat this step 3-4 times, or until the dough is cooked through and golden brown on the bottom. Remove from heat and let cool before serving. Enjoy!
---