Unicorn Tie-Dye Fudge
Sending great happy magic through these delicious Freezer Unicorn Tie-Dye Fudge! An enchanted magic spell that gives you an instant boost of marvelous energy from the extraordinary colors and fun! These enchanted and super fun fudges used our plant-based Suncore Foods® Aqua Blue Spirulina, Ebony Carrot, and Pink Pitaya Powders, creating a burst of wonderful unicorn colors that we love to try!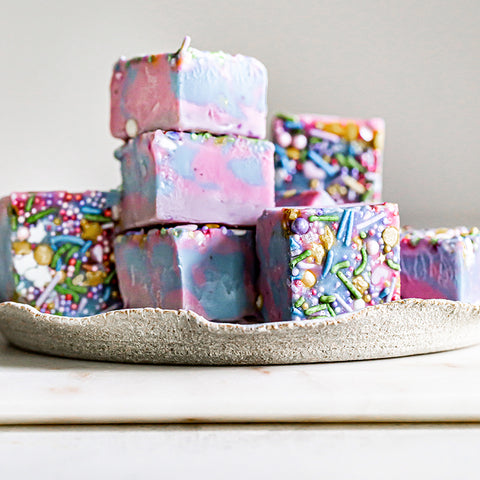 Directions
1. Prepare a loaf pan with parchment paper and set aside.
2. In a saucepan over low heat, melt the coconut butter. Whisk in the coconut milk, agave syrup, salt, and vanilla until smooth. Divide the mixture into 3 bowls and whisk in one powder per bowl. Alternating colors, pour the mixtures into the loaf pan and sprinkle with desired sprinkles (optional).
3. Place it into the freezer for about 4 hours, preferably overnight. It melts quickly, so shove it in your mouth as fast as you can. Keep stored in the freezer in an airtight container.
---