Stir-Fried Purple Sweet Potato Noodles
We've given you a lot of yummy snack options on our page but don't worry we haven't forgot about the entree! With this Stir-Fried Sweet Potato Noodles, you will be going back for that second dish! Especially when added our Suncore Foods® Purple Sweet Potato Powder to make the noodles a brilliant purple color! Have you ever had purple stir-fry before? Because let us tell you that it is extremely tasty! A mix off great veggies and savory flavors, we know you want the recipe. So what are you waiting for!? Get ready to take out those pots and pans!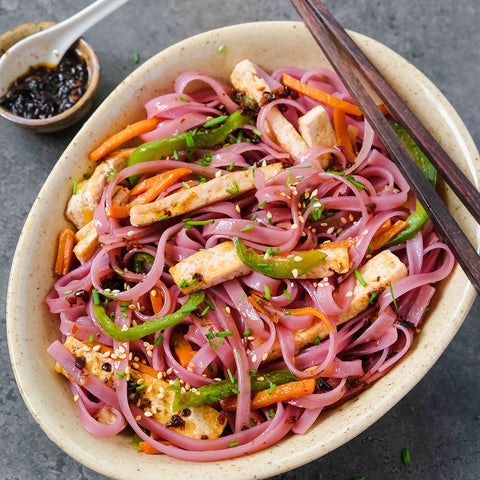 Ingredients
Serves 2

Purple Sweet Potato Noodles:
120g dry rice noodles
1/2 tbsp Suncore Foods® Purple Sweet Potato Powder
Boiling hot water

Stir-Fried Vegetables:
100g extra firm tofu, pressed and sliced
1/2 onion, sliced
Sliced carrots
Sliced bell pepper
Other veggies of choice

Seasoning:
1-2 tbsp liquid aminos or light soy sauce, adjust to taste
1 1/2 tsp chili garlic sauce
1 tbsp sesame oil
Directions
1. In a heat proof bowl, add in the dry noodles and Suncore Foods® Purple Sweet Potato Powder. Pour in boiling hot water, enough to completely soak the noodles. Move the noodles around and leave to soak for 7-8 minutes or until the noodles are pliable and noodles are no longer translucent. Remove from the water.
2. Heat a large pan over medium heat. Add some oil. Place in the tofu. Pan-fry until golden brown and crisp on all sides. Add in the onion, sliced carrots, bell pepper, and other veggies of choice. Add in noodles. Season with some soy sauce, chili garlic sauce, and sesame oil. Stir-fry the noodles until cooked through, around 3-4 minutes. Garnish with some sesame seeds. Enjoy while it's hot!
---