Blueberry Coconut Whipped Cream Vanilla Crepes
We love dessert for breakfast and we also love crepes! The best thing about these Blueberry Coconut Whipped Cream Vanilla Crepes is that you can enjoy them in so many different ways. Start your morning off right!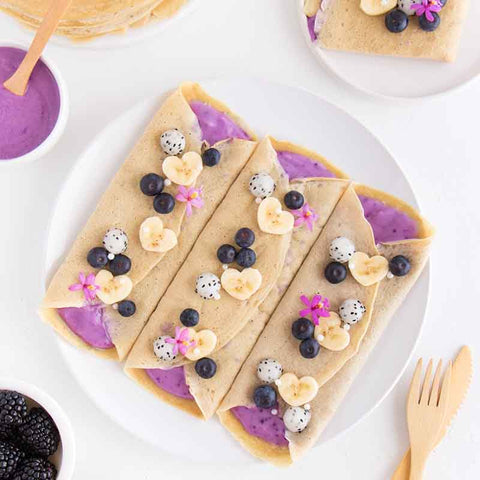 Ingredients
Crepes
1 + ½ cups all-purpose flour
¼ cup protein powder of choice
2 tbsp sugar
½ tsp baking powder
¼ tsp salt
2 cups almond milk
¼ cup water
2 tbsp coconut oil
1 tsp vanilla extract
Filling:
1 cup plain coconut yogurt
1 tbsp Suncore Foods® Indigo Blueberry Powder
Directions
1. In a large bowl, whisk together the all-purpose flour, protein powder, sugar, baking powder, and salt. Then, add in the almond milk, water, coconut oil, and vanilla. Whisk together until well combined.
2. Warm a small nonstick pan on medium heat. If needed, lightly oil the pain to further prevent sticking. Use a ¼ measuring cup to pour the batter into a thin, round crepe. Cook just until the edges begin to lift (should only require 1-2 minutes) and flip to cook the other side for 30 seconds. Repeat until all of the batter is used.
3. For the filling, combine the coconut yogurt and Suncore Foods® Sapphire Wolfberry Powder.
4. Lastly, fill each crepe with the coconut yogurt mixture and top with your favorite fruit.
---