Ruby Red Radish Tortilla Bowls
Spice up your homemade tortilla bowls with a delicious & colorful take! These Ruby Red Radish Tortilla Bowls are a rainbow of colorful veggies filled with minced tofu taco 'meat', jalapeños, corn, tomatoes, shredded vegan cheese, Suncore Foods® Hemp Seeds, mayo, and drizzle with fresh lime juice. The vibrant bold pink color take it up a notch with ease using Suncore Foods® Ruby Red Radish Powder. This simple recipe is 100% delicious and you are bound to enjoy every spoonful.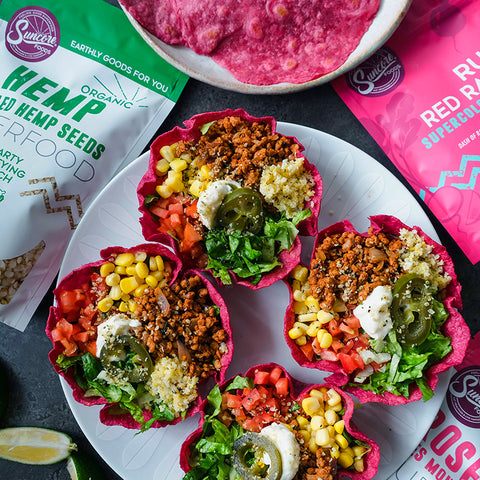 Directions
1. Mix all the dry ingredients in a large mixing bowl. Create a well at the centre of the bowl. Pour in the hot water and oil. Mix until well incorporated. Knead for 5-6 minutes or until there are no more signs of dry flour. The ball of dough will also be firm and will no longer stick to your hands. Flour your work surface. Place the ball of dough on the surface. Pinch the centre of the ball to create a large donut/bagel and then stretch. From there, divide the dough into 8 pieces, each weighing 40-42 grams each. Shape each piece into a ball. Place the balls on a tray, cover with a damp towel, and then leave the balls to rest for at least 20 minutes. You can leave it for up to 2 to 3 hours.

2. Rolling Out the Tortillas — Place a ball of dough on a flat surface. You can lightly flour your surface if you'd like but I used a silicon mat and no longer needed to add any flour. Roll the ball of dough until it's 6-7 inches in diameter. This will be a very thin tortilla. I like to roll them out one at a time. So when one is cooking, I'm rolling out the next one.

3. Cooking the Tortilla — Heat a large non-stick pan over medium high heat.
Place the rolled out tortilla. While the tortilla is cooking, you can now roll out the next one. Cook for 1-2 minutes or until the top exposed side starts to bubble up and the bottom side has some light brown spots. Flip over and cook the remaining side for 1 minute or so. Remove from the pan and place on a plate. You can cover the plate to prevent the tortillas from drying up. Repeat this for the rest of the tortillas.

4. To Make Into A Tortilla Bowl — Heat your own or oven toaster to 350F. Brush some oil on your oven proof bowl. I like to use a bowl that's around 4" in diameter so when I place my 6" tortilla inside, it scrunches up to create a bowl. Leave the tortilla to bake in the bowl for 11-13 minutes or until crunchy. It'll basically take the shape of the bowl. Remove the tortilla from the bowl and leave it to cool for 4-5 minutes. It'll continue to harden and get crunchy as it cools down.
---