Rose Steamed Buns
Rose are red, violets are blue, these rose steamed buns will steal everyone's heart! These cute roses will make a fabulous bouquet; they are adorable, soft, fluffy, and utterly tasty. Turn classic steamed buns into these beautiful roses with simple yet clever rolling! And add Suncore Foods® Purple Sweet Potato & Lilac Taro Yam Powders to recreate perfect shades of sweet, rosy pink! Making them is as fun as eating them.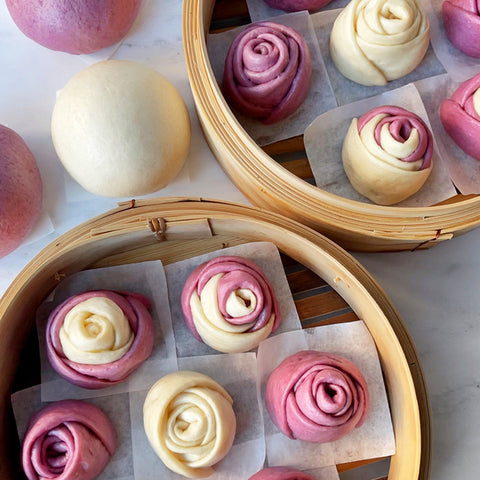 Directions
1. Combine flour, Suncore Foods® Purple Sweet Potato Powder, Suncore Foods® Lilac Taro Yam Powder, yeast, and sugar in a stand mixing bowl. Using a spatula, give it a quick stir. Add in oil and pour in milk, leaving about 10g. On medium speed using hook attachment, mix until dough forms for about 5 mins, add more milk if needed until it releases from the sides. Remember - every flour absorbs liquid differently. Cover bowl with a towel and let dough rest for 10 mins.

2. Divide dough into four equal pieces. Cover and refrigerate 3 pieces to slow down fermentation.

3. Using a small rolling pin, degas the remaining dough by rolling it out into a rectangle. Starting from any side, roll dough into a spiral. Using a dough cutter or knife, cut off the two ends, then divide remaining into 6 pieces. Flour lightly. Roll them into equal circular dumpling wrapper shapes. Roll the two ends out into a long oval, then roll in until you get a tight spiral. These ends will be the core of your roses.

4. Line up each dough circle so it overlaps halfway in a straight line. Using the end piece, roll the doughs from one end to the other. Cut down the middle and it will leave you with two roses. Shape the "petals" by fanning them out gently. Place each rose onto a parchment square inside a steamer, cover, and let rise for 45-60 mins or until it has risen 50%. It should have a delicate light relaxed texture to the touch.

5. Boil water on high. Place steamer and cover once boiling, and steam for 12 mins. Turn off the heat, and keep covered for 5 mins. Uncover slowly, allowing steam to escape gradually. Let cool and ENJOY!
---