Rose Infused Chocolate Ganache Tart
We'll take some chocolate and roses any day! But rose-infused chocolate, now that's taking our love of the two to a whole new level! This tart-tally adorable Rose Infused Chocolate Ganache Tart is a dream come true! This upcoming holiday season wouldn't be complete without it.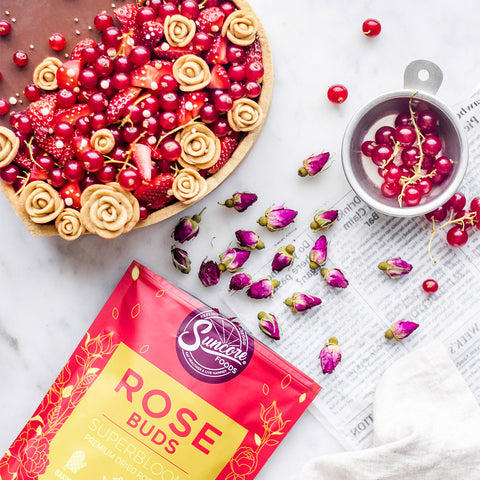 Ingredients
Crust:
1 cup almond meal
¼ cup regular flour
100g dairy free butter
3 tbsp maple syrup
1-2 tbsp cold almond milk
1 tsp vanilla bean extract

Rose Infused Chocolate Ganache Filling:
400g dark chocolate
2 cups full fat coconut milk
Handful of Suncore Foods® Rose Buds
¼ cup maple syrup
Directions
1. Preheat oven to 180c. Grease a tart tin (6")with coconut oil. Set aside. 
In a food processor, add crust ingredients and pulse to combined. You should get a moist mixture than can be easily moulded. Firmly press into bottom and up the sides of tart tin. Bake for 20-25 minutes until crust is golden brown. Transfer to a wire rack and let it cool.
2. Place coconut milk with handful of Suncore Foods® Rose Buds in a saucepan over medium heat and bring to boil. Remove from heat, let infuse for 5 minutes.
3. Pour milk mixture through a sieve onto the chocolate and stir until all the chocolate has melted. Whisk in maple syrup. Pour the mixture into cooled tart. Place tart in the fridge to set, about 4 hours or overnight. Garnish tart as desired with fruits.
---