Red Radish and Velvet Red Beet Crepe Cake
It's beginning to look a lot like Christmas, especially with this charming Red Radish & Velvet Red Beet Crepe Cake. This delicious and beautiful cake has layers filled with a rich coconut whipped cream that will make your day even merrier. To achieve this beautiful bright red color, our Suncore Foods® Red Beet and Ruby Red Radish Powders were mixed together in fanciful harmony for that jubilant effect. Let's get baking and make it truly the most wonderful time of the year!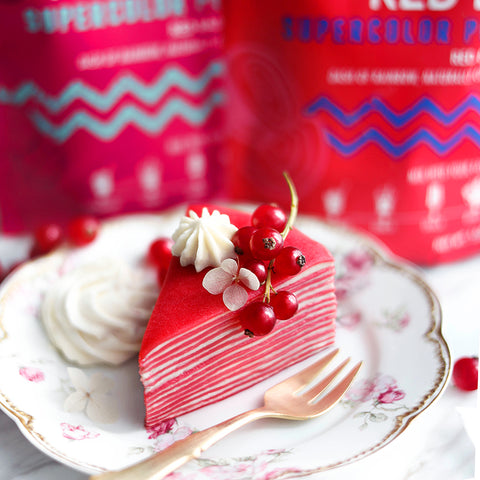 Directions
1. In a large bowl whisk together flour, cornstarch. Add in milk, maple syrup, coconut oil, vanilla and salt. Mix until well combined and smooth.
2. Heat a large pan over medium-high heat. Grease the pan really well with coconut oil.
3. Remove pan from heat. Pour a small ladleful of batter in the pan and swirl the pan around to evenly coat the bottom with the batter. Return the pan to heat. Leave to cook until you see the edges start turning brown. Then loosen with a spatula and flip. And cook another 1-2 mins on the other side.
4. Place the first crepe layer onto serving platter and spread coconut whipped cream between each crepe layer. Refrigerate Crêpe cake for at least 2 hours before serving.
---