Red Dragon Fruit Milk Truffles
Satisfy your chocolate cravings with these delicious Red Dragon Fruit Milk Truffles! These treats are rich, slightly chewy, and heavenly delicious. Add a little twist to your classic milk truffles with Suncore Foods® Red Dragon Fruit Chips and Suncore Foods® Pink Pitaya Powder to bring out the bright, lovely pink color and add tangy fruity flavor to balance out the sweetness. Celebrate today with sweetness and gift the gift of happiness. It's happiness in a box!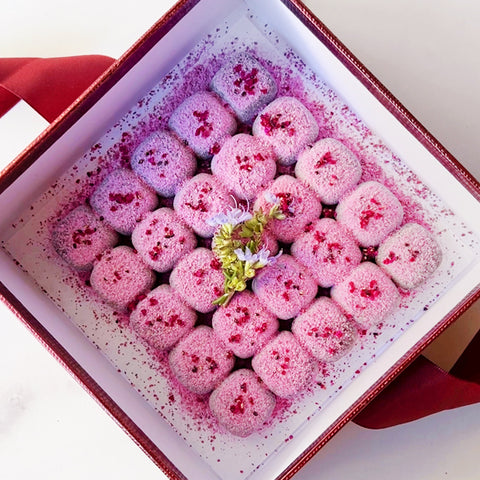 Directions
1. Grind Suncore Foods® Red Dragon Fruit Chips finely using a mortar & pestle. Sift into a clean small bowl and set aside the seeds that didn't pass through. Divide 10g of Suncore Foods® Pink Pitaya Powder. In the remaining bowl, add powdered sugar and stir until combined.
2. Warm condensed milk in a small saucepan. Remove from heat once you see bubbles forming around the edges. Pour into a medium mixing bowl and sift in 1/2 the cocoa powder along with the 10 g dragon fruit powder. Stir well with a whisk. Add the rest of the cocoa and switch to a spatula. Combine until no dry powder is viable - mixture will be VERY THICK.
3. Transfer and wrap in cling wrap in shape of a square disc. Let it set in refrigerator for minimum 1 hour or overnight.
4. Unwrap and divide Into small pieces using a sharp knife or dough scraper. Sift some of dragon fruit powder if mixture is very sticky to handle (gloves recommended). Roll 8 g or desired size pieces. Sift a layer of powder on top to finish, garnish with seeds you set aside, and ENJOY!
---