Red Dragon Fruit Chocolate Cacao Goji Bark
One bite and you'll be barking for more! This Red Dragon Fruit Chocolate Cacao Goji Bark is topped with so many delicious Suncore Foods® ! From our Red Dragon Fruit Chips, to our Cacao Nibs, and Goji Berries! Welcome to the bark side!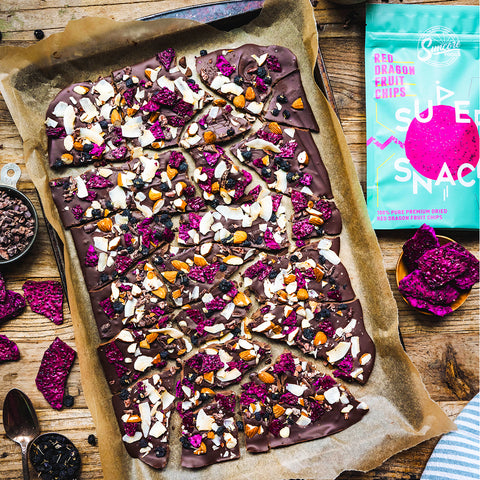 Directions
1. Melt dark chocolate chips with 2 tsp coconut oil in a large bowl in the microwave for 20 second intervals, stirring well between each interval, until fully melted. Line a large baking sheet with parchment paper.
2. Spread melted chocolate on baking sheet and spread evenly. Sprinkle almonds, Suncore Foods® Red Dragon Fruit Chips, coconut flakes, Suncore Food® Cacao Nibs, Suncore Foods® Goji Berries and salt over chocolate. With a spatula, very gently press lightly into the chocolate.
3. Transfer to refrigerator to harden for a minimum of 2 hours. Break into pieces and enjoy. Store in an airtight container in the refrigerator with parchment in between the layers.
---