Red Beet Heart Shaped Craquelin Choux Pastry
Eat your heart out with these lovable red beet craquelin choux pastry! Sweeten your day with a crunchy, crisp, buttery, delightful bite. This dessert will be a wonderful idea for your next gathering or celebration, it's a perfect way to tell "I love you" to your special someone. Suncore Foods® Red Beet Powder was incorporated to create these passionate bright red hearts! Give your heart to someone who truly deserves it. Let's get baking and enjoy the little things.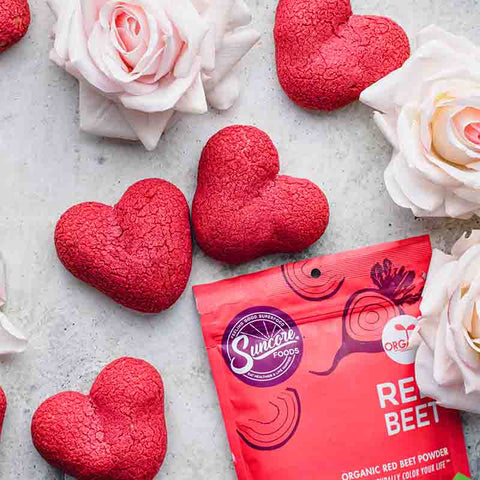 Directions
1. Preheat oven to 350 F/180C.
2. Make the Craquelin Topping (crust) — Mix butter, brown sugar, Suncore Foods® Red Beet Powder, and flour together in a large bowl using a spatula. Place dough between two sheets of waxed paper or inside a zip-top bag. Roll into a log shape (about 1 inch diameter). Freeze until ready to use.
3. Sift the flour and Suncore Foods® Red Beet Powder once, set aside.
4. Combine water, butter and sugar in a saucepan; bring to a simmer over medium heat. Add flour; stir with a wooden spoon until mixture comes together into a smooth dough and pulls away cleanly from the bottom of the pan.
5. Remove the saucepan from the heat. Whisk eggs, one at a time, into the pastry, mixing well after each addition.
6. Scoop pastry into a pastry bag and pipe into heart shapes on the baking sheet. Smooth out tops with a wet finger.
7. Take the crust out of the fridge. Use a small cookie cutter to cut out the crust and place them over each choux.
8. Put in the oven for 20 minutes or until puffed and golden, then open the oven door to let the steam out and directly re-close it. Leave them to bake for another 10 to 15 minutes. Transfer the Choux on a cooling rack and leave to cool down completely.
---