Raspberry Red Beet Yogurt Tart with Cookie Crumb
We adore beets in all recipes and this beet-tiful Raspberry Red Beet Yogurt Tart find ourselves in a culinary induced swoon. The vibrant color of this tart is visually stunning made with our Suncore Foods® Red Beet Powder—this is almost too good to be true! We also love the lovely hue made using of our Suncore Foods® Red Beet Powder. This gorgeous tart makes a lovely brunch or lunch dessert, we think you'll enjoy it berry much!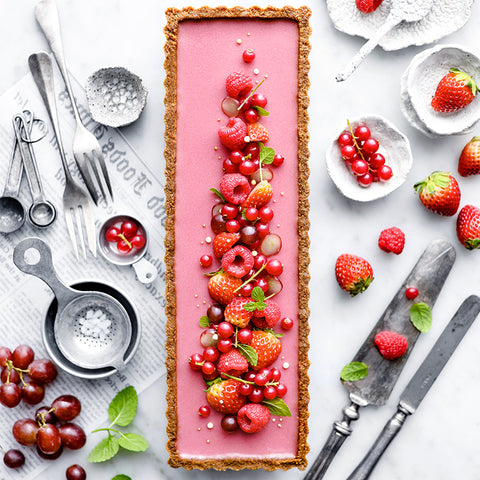 Ingredients
Crust:
250g vegan cookies/biscuits (You can use your favourite homemade or store bought cookies/biscuits to make the crust. Any crisp and crunchy cookie will work)
110g melted dairy free butter 

Filling:
1 1/2 cups frozen or fresh raspberries
1 cup canned coconut milk
1/2 cup dairy free yogurt
1/4-1/3 cup maple syrup (depending on your preference and how sweet your raspberry is)
1 tsp agar agar powder
1/2 tsp Suncore Foods® Red Beet Powder, dissolved in 1 tsp water
1/4 tsp salt
Directions
1. Preheat the oven to 180°C. Grease a rectangle tart tin (13.5" inch). Set aside.
2. Place the cookies/biscuits in a food processor and process to small crumbs. Add the melted butter and pulse until combined.
3. Firmly press mixture into the tart pan with your hands, press into bottom and up the sides of tart pan. Bake for 12 minutes. Transfer to a wire rack and let it cool.
4. In a blender add coconut milk and raspberries, blend still smooth. Strain mixture through a fine mesh sieve. Use the back of a spoon to press out the juice.
5. In a saucepan, bring milk & raspberry mixture to a boil. Add agar-agar and stirring constantly until completely dissolve, about 2-3 minutes. Then lower the heat and add in maple syrup, yogurt, and Suncore Foods® Red Beet Powder. Let simmer for 1 min. Turn off the heat and allow mixture to cool slightly. Pour mixture into the tart. Chill in fridge for at least 4 hours to set.
---