Rainbow Unicorn Angel Cake
Dance with fairies, ride a unicorn, swim with mermaids, and chase the rainbow! Life is a gift, so why not make it even more special and magical with this whimsical and joyful rainbow unicorn angel cake? This light and airy cake is sweet, buttery, and truly delicious! With Suncore Foods® Aqua Blue Spirulina, Cerise Prickly Pear, Ebony Carrot, Midori Jade Matcha, Red Beet & Yellow Goldenberry Powders this rainbow cake comes to life with color. A party without a cake is just a meeting, so take this cake and light up a party. Life is full of rainbows and unicorns!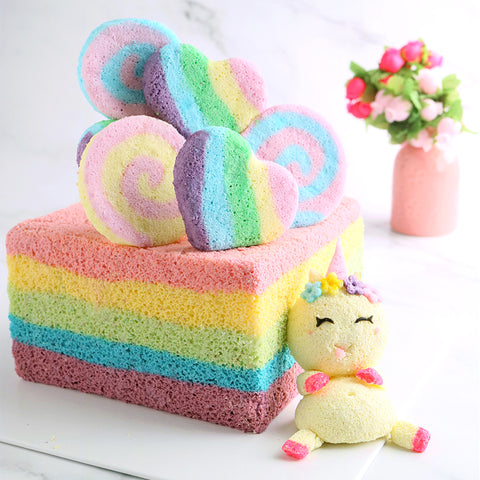 Directions
1. Pulse cake flour with ¾ cup caster sugar and salt till fine and powdery.
In a clean mixing bowl, whisk egg whites with cream of tartar till frothy. Add in ¾ cup caster sugar gradually and whisk till firm peaks. Beat in vanilla extract till just combined.
2. Fold the powdery dry mixture into the meringue in 3 additions. Before the mixture is completely folded, divide the mixture into 5 and fold in the rainbow color powders (I used blue and yellow to make green).
3. Pipe rainbow colored batter into a 6" square tube pan, as well as heart-shaped and round baking cups to make the 'lollipops'. Bake the tube pan at 150C for 50+min and the cupcakes for 18 min. Pour leftover yellow batter into cake pop molds to bake the 'unicorn' (18 mins).
4. Assemble the rainbow angel cake using marshmallow glue. Enjoy!
---