Rainbow Sandwich Cookies
Sign us up for a stack of these Rainbow Sandwich Cookies made with radiant bright colors and we can totally snack on these all day long! These go great with a glass of milk or a quick snack when you're on the go! Mix and Match our Suncore Foods® Powders for a frenzy of rainbow cookies. Each color is unique and fun, so these cookies will never get boring! Happy snacking!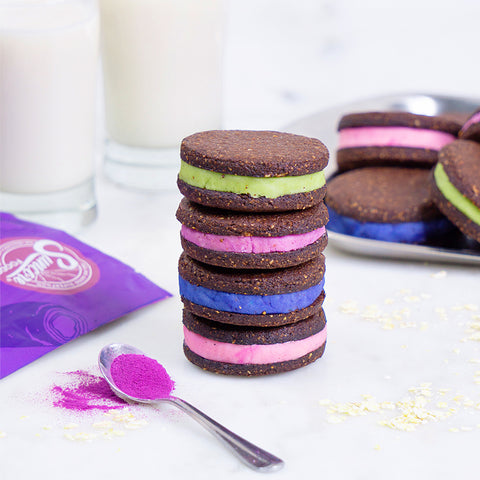 Directions
1. Preheat oven to 350ºF. Combine all ingredients for cookies into a bowl mix until cookie dough has formed.
2. Roll dough out thin and cut cookies. Place on a greased baking sheet and bake for 23 minutes.
3. Grab a bowl along with three small bowls. Combine all ingredients for filling excluding colors. Once filling is made separate into 4 sections then add color to each bowl.
4. Mix color and filling until it is fully combined then set aside.
5. Remove cookies from oven and allowing to cool. Gently remove cookies from tray. Grab a small wad of icing and gently smooth evenly over cookie. Press another cookie on top and repeat process until finished. Enjoy!
---