Rainbow Potato Gnocchi
It's hard to say "no" to gnocchi. Especially when they're homemade and rainbow colored! These beautifully delicious vegan Rainbow Potato Gnocchi are pasta-tively amazing. Make it super fun and delicious with Suncore Foods® Powders to achieve this magical rainbow effect! Sitting your little ones down for a hot, fulfilling meal can be challenging, but with this colorful dish, they will come running to the dinner table. Try this wonderful recipe and add some magic with our Powders. This pasta has the gnocchi to our hearts!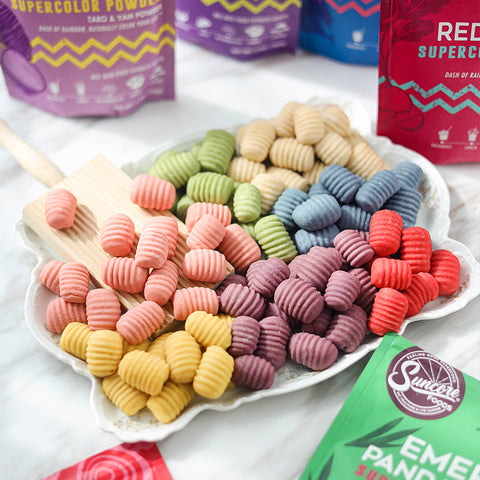 Directions
1. Add mashed potato into a large mixing bowl. Add nutritional yeast, water, nutritional yeast and salt. Mix until combined. Add about 200g flour (more if needed) dough will still be slightly tacky.
2. Spread large work surface with extra flour. Flour your hand and roll dough into a ball and cut into half. Roll each portion into a log. Cut into bite size pieces. Lightly roll each piece in your palm into a ball and press onto a gnocchi paddle. Bring a saucepan of salted water to a rolling boil. Add the gnocchi and cook until they float to the surface. And serve with desired sauce.
---