Rainbow Pancakes Breakfast Table
Eat the rainbow for breakfast and shine all day! Make this Monday morning YOUR morning with this vibrant Rainbow Pancake Breakfast Spread. Even the pickiest of eaters will be happy at this table.  Don't be fooled by their appearance, these pancakes are heavenly delicious and beautifully colored by Suncore Foods® Pancake & Waffle Powders. Why eat a plain and boring breakfast when you can have this playful rainbow on your table? Follow every rainbow until you find your dream.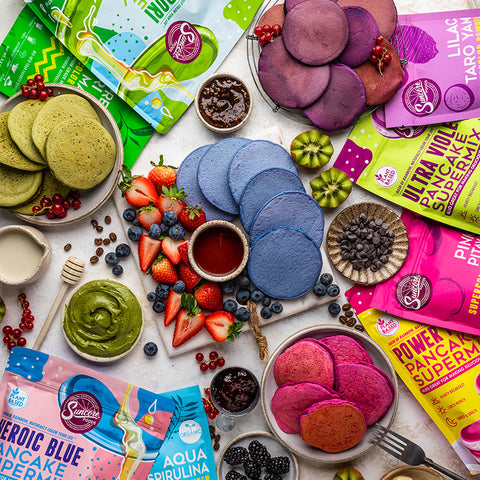 Directions
1. Pancakes — Prepare batter in 4 separate bowls, combine 1 cup Pancake Supermix, 1 tsp vanilla extract, 1 cup vanilla oat milk, ¼ tsp cinnamon (if using) and a corresponding Supercolor Powder of the same color as the respective Pancake Supermix. If the pancake batter is too dry, add some more oat milk 2 tbsp at a time. Follow Suncore Foods® Pancake & Waffle Mix package instructions to cook the pancakes. When ready, serve pancakes with the following accompaniments to complete your grazing board.
2. Strawberry Jam — Place strawberries & water in a saucepan & bring to boil. Cook for 5 minutes. Reduce heat & mix in sugar and vanilla extract. Simmer for approximately 30 minutes while stirring regularly & gently mash the fruit while it cooks. Remove from heat & allow the jam to cool completely. When ready, mix in Suncore Foods® White Chia Seeds and set aside or refrigerate for minimum 2 hours before serving.
3. Cardamom Matcha Cream Spread — Whisk together all ingredients until smooth and well combined. Adjust sugar if needed. For a thicker cream spread, add some more powdered sugar. For a thinner spread, add some oat milk.
4. Accompaniments — Maple syrup, fresh fruit, fresh strawberry chia jam, cardamom matcha cream spread, and chocolate chips.
---