Rainbow Noodle Salad with Jasmine Lemon Dressing
Here's our refreshing take on the noodle salad. Noodles made with delicious & simple and incorporated with bright rainbow hues using Suncore Foods® Red Beet Powder, Suncore Foods® Purple Sweet Potato Powder, and Suncore Foods® Ebony Carrot Powder. Each bite is packed with a crunch and rounded off with a tangy Lemon Jasmine dressing, infused with Suncore Foods® Jasmine Flowers. Recipes like this makes New Year's good eating resolutions easy to stick to!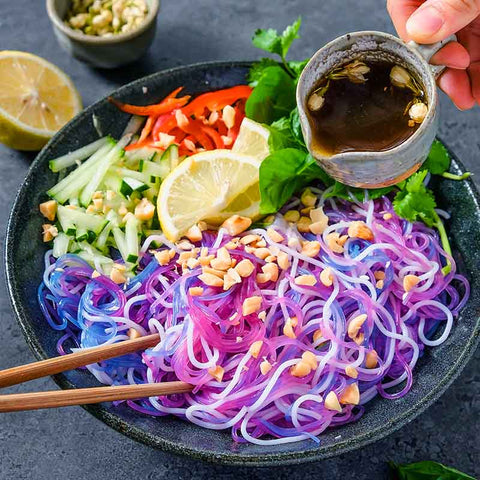 Directions
1. Place the vermicelli noodles in 3 separate heat proof bowls. Add 1 tsp each of the Suncore Foods® Powder in each (if using). Pour boiling hot water into the bowl until the noodles are completely submerged. Leave to cook for 6-7 minutes or until chewy and cooked through. Drain the excess liquid and leave the noodles to completely cool.
2. Place Suncore Foods® Jasmine Flowers in a bowl then pour in boiling hot water. Leave to sit for 5 minutes. Mix the rest of the dressing ingredients. Taste the dressing and feel free adjust the sweetness and tanginess, as you'd like. Set aside.
3. Place the sliced vegetables and herbs along with the noodles in a large bowl. Pour over the dressing and then mix everything until well-incorporated. You can refrigerate the salad for the flavours to infuse better. Enjoy!
---