Rainbow Mini Snowskin Mooncakes
The Mid-Autumn Festival of 2021 is just days away!! After a couple of tumultuous years, we could use some togetherness and band with loved ones to celebrate and honor the moon! Mooncakes are as much as a staple during this celebration as paper lanterns and have grown in popularity and evolved over time. Bakers and foodies alike have explored the updated version of mooncakes that require no baking and are a little less stressful to perfect than the traditional mooncakes. Snowskin mooncakes have a mochi-like outer layer that at its base, starts out white (hence the "snow") which means it's perfect to add some color! For this Rainbow Mini Snowskin Mooncakes, there are several Suncore Foods® Powders to create the gorgeous spectrum, like Cerise Prickly Pear, Lilac Taro Yam, and Aqua Slue Spirulina. With the chewy texture of the snowskin, a naturally thick, smooth, and creamy taro filling, boosted with Suncore Foods® Lilac Taro Yam Powder is perfect to complete this scrumptious, festive treat! Here's to longevity and good fortune for 2022!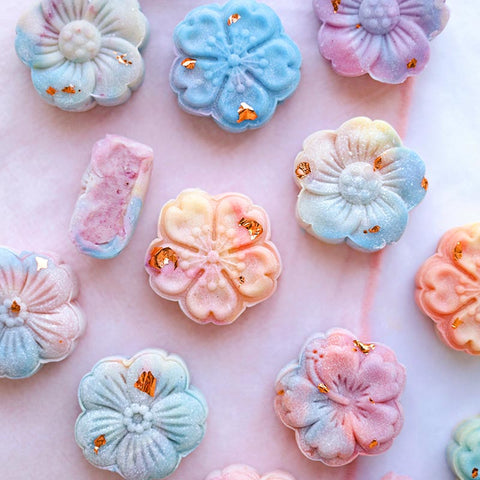 Directions
1. Snow Skin — In a large bowl, add glutinous rice flour, rice flour, wheat starch, and icing sugar, mix well. Add milk, mix well. Add condensed milk and veg oil, mix well. Sift the mixture. Over medium heat, steam the mixture for around 20mins or until it is cooked. Transfer the dough to a stand mixer, beat at medium-low speed for around 5 mins or until smooth. Wrap the dough with cling wrap, refrigerate for 1.5 hours. Divide the dough into four even pieces. Dissolve each Suncore Foods® Powder with 8g of water. Knead the three different colors into three separate pieces of dough, leave one white. Put the dough back to the fridge before use.
2. Taro Filling — In a food processor, add all the ingredients and mix well until smooth. Transfer the mixture to a pan. Over medium heat, cook the mixture and keep stirring until it forms into a dough. Refrigerate the dough for 1 hour.
3. Assembly — Following 1:1 ratio, divide the filling and the snow skin into even pieces, roll them into balls(my mold is small, so I did 17 kg each). Use cooked glutinous rice flour to coat the snow skin to prevent sticking. Press down a piece of snow skin. Wrap the filling and seal it gently. Coat the mooncake with glutinous rice flour and use a mooncake mold to shape it
---