Rainbow Crepes Cake
Life is full of rainbows and butterflies. If you haven't found your rainbow, why not create it! This joyous Rainbow Crepes Cake will brighten your day and fill your tummy with happiness. This cake is filled with soft, tender layers and creamy deliciousness. Create the rainbow with Suncore Foods® Powders, bring out your inner kid, and have some fun. Perfect for your next gathering, birthday, or just any day! Life is short, eat dessert first.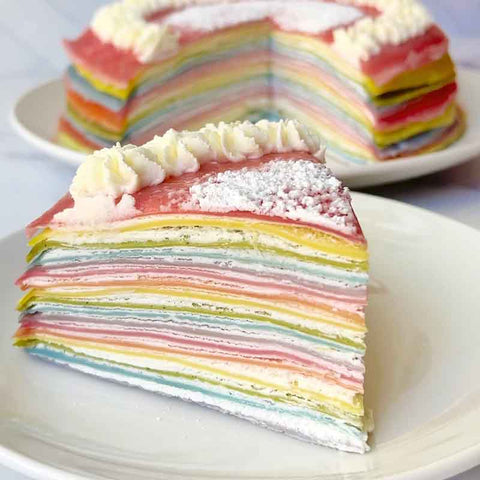 Directions
1. Place an empty large mixing bowl onto a kitchen scale and jot down the weight. Whisk together eggs, sugar, salt, and vanilla until combined. Sift in cake flour. Stir in milk and butter and mix until well combined. You can also use a blender. Weigh your full bowl and minus the weight of the bowl alone. Divide this by 6.

2. Using a small mixing bowl, pour in 1/6 of batter and mix in Suncore Foods® Powder. Sieve batter through a strainer into a clean bowl. Repeat for all colors. Cover and refrigerate all bowls for 30 mins - 1 hour.

3. Grease crepe pan with butter or oil, wiping off any excess. On low heat, pour 1/4 cup of crepe batter. Once bubbles appear and edges release from the pan, flip crepe using a thin spatula. Cook for 30 more secs and transfer onto a plate. Repeat until all crepes have been made.

6. To make the cream, combine whipping cream and sugar. Using a hand/ stand mixer, whip until soft peaks.

7. Using a swivel cake stand, place one crepe onto a flat plate. Layer cream evenly, then place another crepe on top. Repeat and alternate until all crepes have been stacked.

8. Optional: place leftover cream into a piping bag, and pipe decorations on cake top.

9. Chill in fridge for min 4 hours to set. Sprinkle with powdered sugar (optional), slice using a sharp knife, and enjoy!
---