Rainbow Celebration Macaroons
These freshly baked Rainbow Celebration Macaroons are colorful, delicious, and sure to brighten anyone's day. Perfect for events, gift, or just because — these delightful macaroons are the perfect rainbow treat to add color to your desserts. The magnificent colors of the rainbow is easily achieved using Suncore Foods® Powders (Aqua Blue Spirulina, Blue Butterfly Pea, Ebony Carrot, Emerald Pandan Leaf, Lilac Taro Yam, Purple Sweet Potato, Midori Jade Matcha, Ruby Red Radish, Red Beet, and Yellow Goldenberry). How could you not love something that's guaranteed to add a bit of fun and sweetness to your day?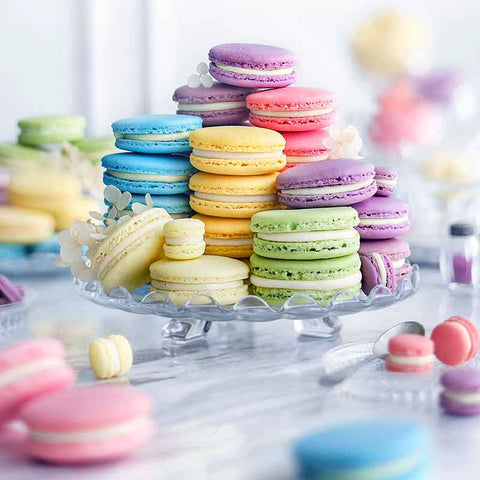 Directions
1. Prepare the Aquafaba — Strain the liquid from the canned chickpeas and weigh to 150g. In a saucepan cook chickpea water on a very low heat and reduce to 60g, stirring occasionally. When it reaches 60g, transfer to a bowl, cover in plastic wrap and refrigerate overnight.

3. Filling — Combine the powdered sugar and almond meal and place in a food
processor. Blend to achieve a finer consistency then pass through a sieve.
Set aside. Whisk the aquafaba with the cream of tartar and one third of the sugar until a medium peak. Gradually add in the remaining sugar and continue whisking for 5 mins. Add the dissolved sweet potato powder and whisk until combine.

3. Macaroons – Fold the almond powdered sugar mixture through the meringue by hand, until the mixture is smooth and shiny. Pipe macarons on a baking sheet, let sit at room temperature for 45 minutes before baking. Bake at 150C for approximately 12-13 mins.
---