Celebration Rainbow Bread Loaf
Let's wrap up this year and fill it with this magic and rainbow! Today we are celebrating the last day of 2022 with this delicious rainbow baked with love. Good food brings people together, so why not get a slice and spread the love? With a touch of magic from Suncore Foods® Powders, you can create this beautiful rainbow. We are thankful for your love and all the kind words. Let's close this chapter with warmth, love and deliciousness. We wish you another year filled with love and fun! Cheers!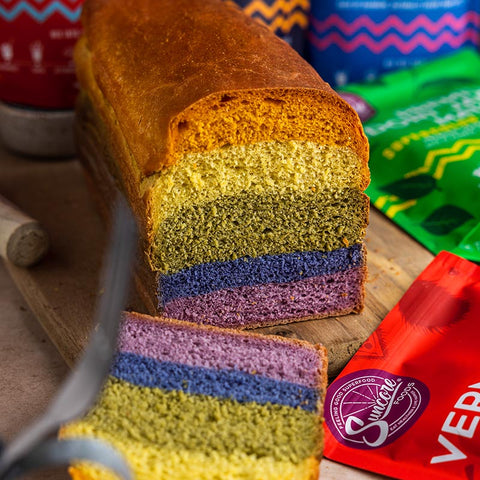 Directions
1. Prepare Dough — In the bowl of a stand mixer, combine warm water, sugar and yeast and set aside until the mixture is frothy. Mix in olive oil on low speed for 30 seconds. Mix in salt and bread flour on low speed (or at the mixer recommended speed for dough) until the dough comes together and is no longer sticking to the walls of the bowl.
2. 1st Proof — Remove dough and form a dough ball. Place the dough in a clean bowl, cover and proof the dough for 60-90 minutes.
3. Knead in Suncore Foods® Powders — Punch the air out of the dough and lightly re-knead the dough for a few seconds. Cut the dough into 5 portions and knead Supercolor Powders into one portion each.
4. Roll and Fold Dough — Lightly oil the inside of the bread pan and set aside. Using a rolling pin, roll one portion into a rectangle (or a blunt oval). Fold in the edges of the dough forming a smaller rectangle (fold in the longer sides first). Gently press on the crease ensuring it sticks together and flip the dough with the crease side facing down.
5. 2nd Roll — Using a rolling pin, gently roll the dough (with the crease side facing down) and slightly expand and flatten the dough. The width of the dough rectangle should not be larger than the bread pan.
6. Follow steps 4 and 5 and roll and fold the remaining portions. You should have 5 Supercolor dough rectangles.
7. Assemble Dough — Place the rectangles, in order of choice, in the prepared bread pan with the crease side facing down.
8. 2nd Proof — Cover the bread pan with a kitchen towel and set aside for 45 - 60 minutes.
9. Bake: When ready to bake, preheat oven to 3500 F. Brush the dough with plant-milk and bake for 55 minutes. After 35 minutes, cover the bread pan with aluminum foil and continue to bake. Once ready, the top of the loaf should be golden-brown and should sound hollow when you tap on it.
10. Cool: Allow the loaf to cool in the bread pan for 15 minutes. Remove the loaf from the bread pan (the loaf should slide out when the bread pan is tilted) and allow it to cool to room temperature, on a wired rack, before slicing.
---