Rainbow Abstract Art Popsicles
Kicking summer to the curb with colorful rainbow abstract popsicles to help you beat the heat! Using our Suncore Foods® Powders and made with 4  only, these pops are something to crave as the weather warms up. The perfect treat for summer at home with the kids!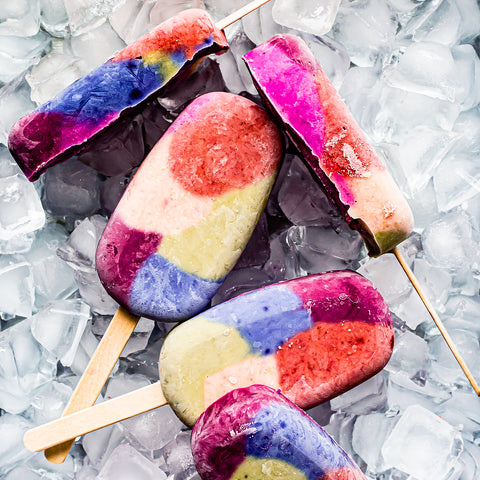 Directions
1. In a large bowl, whisk all the ingredients (except the powders) together until well incorporated.
2. Equally divide the mixture into 6 smaller bowls.
3. Add 1/2 teaspoon of each powder (only 1/4 teaspoon if using blue spirulina powder) into each of the bowls separately and stir to combine until the yogurt mixture turns the color you'd like (feel free to add more or less of each color, but keep in mind they will have some flavor).
4. Prepare your popsicle mold by placing them on a baking sheet (makes it easier to get into the freezer) and insert the popsicle sticks.
5. Using a spoon, dollop a small amount of each colored yogurt into each popsicle mold, next to each other, overtop of the popsicle stick until all the yogurt colors are used up.
6. Place in the freezer until set 1-2 hours or overnight.
---