Purple Sweet Potato Mochi Bread
We are hooked on these soft & chewy mochi bread infused with mashed purple sweet potato that looks & taste like a sweet potato, such a fun & genius play on food that we fully love! These delicious goodness treats are mochi-needed to have & once you bite into them, you may not stop dreaming about it. Added Suncore Foods® Purple Sweet Potato Powder into the dough to give both its gorgeous purple color and delicious flavor. Who wants one?!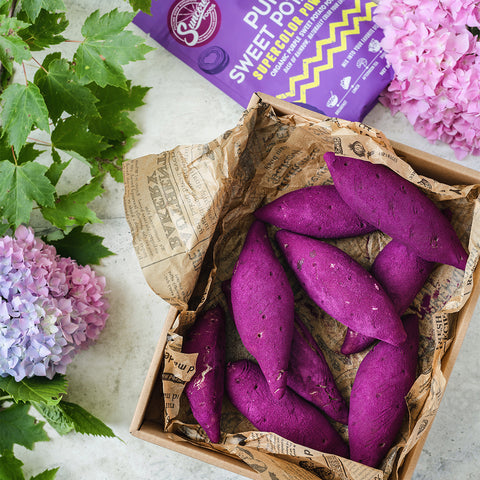 Ingredients
Filling:
240g cooked sweet potato (Japanese sweet potato/purple sweet potato)
1 tbsp honey

Dough:
1 cup tapioca flour
2/3 cup water
2 tbsp butter
1.5 tbsp sugar
1 tbsp app purpose flour
2 tbsp sweet rice flour
1 medium egg
1/4 cup Suncore Foods® Purple Sweet Potato Powder
Directions
1. Preheat oven to 320 F and line the baking sheet with parchment paper. Sprinkle purple sweet potato powder on a big plate. Set aside.
2. Smashed the sweet potato in a bowl, add honey and mix together. Divide the mixer into 6 pieces and shape each piece to an oval. Set aside.
3. In a nonstick pan, add water, butter and sugar and turn on low heat. When butter is fully melted, add tapioca flour. Keep stirring for 5 minutes until it forms a dough (will be very sticky and firm).
4. Remove the dough from heat and let it cool for 5 minutes. Add sweet rice flour, all purpose flour and egg. Knead the dough until all ingredients are completely incorporated into a firm dough.
5. Cut the dough into 6 equal pieces and roll them into individual ovals (palm size).
6. Place one sweet potato filling in the center of the oval dough. Fold the dough by pinching the edges together. And then roll it back and forth to a sweet potato shape using your hands.
7. Place the shaped dough on the plate with purple sweet powder. Roll it back and forth to coat the dough with Suncore Foods® Purple Sweet Potato Powder.
8. Place the dough on the baking sheet and bake for 15 minutes. Eat when it's warm. Enjoy!
---