Purple Sweet Potato Pie
A piece of cake? How about a slice of pie! The thought of getting your hands on a slice will occu-pie your mind! The crust incorporates Suncore Foods® Hemp Seeds and this spud-tacular color is created using Suncore Foods® Purple Sweet Potato Powder. Get yourself some of our Purple Sweet Potato Powder and create some spud-tacularly colored treats!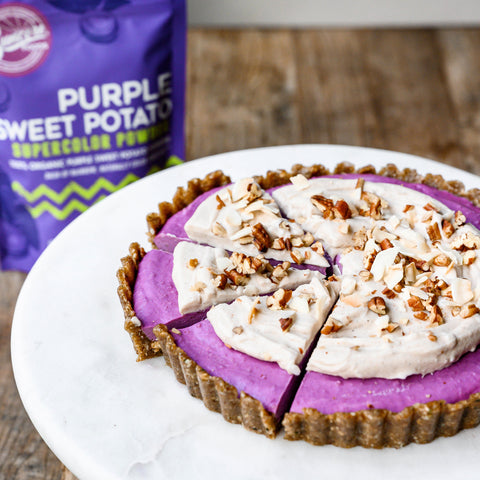 Ingredients
Crust:
¾ cup pecans
⅓ cup Suncore Foods® Hemp Seeds
⅓ cup coconut chips
2-3 large medjool dates, halved and pitted
1 tbsp maple syrup
½ tbsp vanilla extract
½ tsp pumpkin pie spice
¼ tsp salt
Filling:
1 cup cashews, soaked in room temp water 3-4 hours
1 7 oz container of vegan cream cheese
¼ cup maple syrup
¼ cup melted coconut oil
1 tbsp vanilla extract
½  tsp pumpkin pie spice
½  tsp cinnamon
¼  tsp salt
3 tbsp Suncore Foods® Purple Sweet Potato Powder
Directions
1. Crust — Add all ingredients to a food processor and pulse until everything is crumbly and sticks together when pressed between your fingers. Press into an 8 inch round fluted tart pan that has a removable bottom. Put in freezer for 10-15 minutes while making filling.
2. Filling — Drain and rinse soaked cashews. Add everything to a blender, and blend until smooth and creamy. Pour over crust and smooth out  Return to freezer for a minimum of 4 hours or overnight.  Let sit for 10 minutes before slicing.  Top with a generous dollop of cinnamon coconut whipped cream, chopped nuts, and chopped coconut chips.  Return uneaten portions to freezer and cover with aluminum foil or put in an airtight container.
---