Purple Sweet Potato Oat Milk Chia Pudding
These creamy and delicious little creations are our new obsessions! Upgrade your chia pudding game with this Purple Sweet Potato Oat Milk Chia Pudding made with Suncore Foods®️ Purple Sweet Potato Powder for the magical royal purple color. A perfect on-the-go and delicious breakfast or dessert!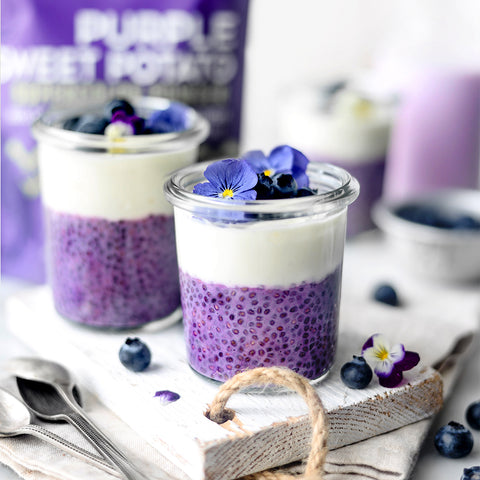 Directions
1. To make the milk — Add oats, water, Suncore Foods® Purple Sweet Potato Powder, maple syrup, salt into a milk maker or a blender. Blend for 1 minute, until the mixture seems well combined. Strain mixture with a nut bag or cheesecloth over a large bowl. Store the milk in the fridge up to 5 days. Shake it well before use.
2. Chia Pudding — Place all Suncore Foods® Black Chia Seeds ingredients in a jar. Cover tightly with lid and shake to combine. Let it rest in the fridge for 1-2 hours or overnight, stirring occasionally, until it reaches a pudding-like consistency. 
2. Assemble — Add the chia pudding to the jars. Top with coconut yogurt. Serve with fresh berries and enjoy! . Enjoy! 
---