Homemade Purple Dumplings
Who doesn't love rainbow colored foods especially when it's beautifully colored and in these packed with umami deep, vibrant purple! Not only is it pleasing to your eyes, these delicious Homemade Purple Dumplings will satisfy all your savory cravings and make a perfect festive dish for family & friends! Made with Suncore Foods® Cosmos Red Cabbage Powder & Suncore Foods® Purple Sweet Potato Powder into the dough for the stunning hue! We'll definitely be snagging more than one!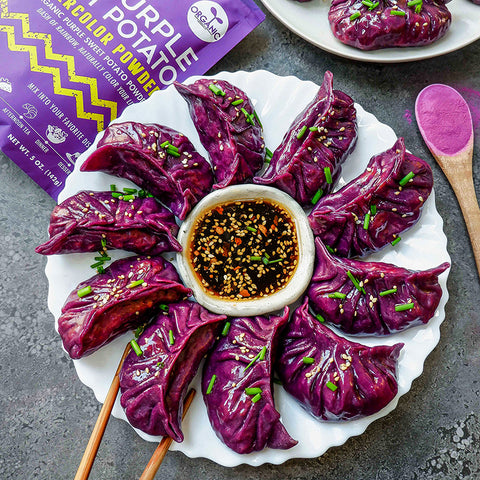 Ingredients
Makes 35 Dumplings:
2 1/4 cups (310g) all-purpose flour
3/4 tsp salt
1 tbsp Suncore Foods® Cosmos Red Cabbage Powder
3 tbsp Suncore Foods® Purple Sweet Potato Powder
3/4 cup + 3 tbsp warm water
Filling:
1 240g block extra firm tofu, drained of excess water and then mashed*
15 pieces (60g) dried shiitake mushroom, makes 1 ¼ cup rehydrated minced
1 head (450g) raw cabbage, makes 2 ½ cup minced
1 sweet potato (100g), makes 1/2 cup minced
2 small raw carrots (200g), makes 1 cup minced
1 red onion, roughly chopped
3 cloves garlic
2 tsp salt
1 ½ tbsp oil
2 ½ tbsp cornstarch
Sweet Soy Sauce:
2 tbsp coconut sugar
2 tbsp soy sauce
1/4 cup water
2 tbsp sesame oil
1 tsp sesame seeds
Chili oil, optional
Directions
1. Making the Dough and Dumplings – Add in all purpose flour, Suncore Foods® Cosmos Red Cabbage Powder, Suncore Foods® Purple Sweet Potato Powder, and salt in mixing bowl. Mix. Create a well in the center and pour in the warm water.
 Use a spatula/chopsticks to mix the flour and water. Once the dough starts to come together, use your hands to mix the bits of dough. Knead together for several minutes. If the dough is a bit dry, add a splash of warm water.
 Shape the dough into a ball. Place it in a bowl. Cover with a damp towel and let it rest for 15 minutes. 
Knead the dough a few more times. Return to the bowl then cover with a towel. Let rest for 15 more minutes.
 Divide the dough into 35 pieces. Roll out into wrappers. Place the filling and then seal the dumplings. Feel free to pleat the sides depending on your desired folding technique.

2. Sweet Soy Sauce – Add all the ingredients in a bowl. Adjust seasoning based on your desired taste.
3. Cooking the Dumplings – Place dumplings apart from each other in a steamer. I lined mine with parchment paper. Steam the dumplings for 7-8 minutes or until the wrapper has turned into a darker shade of purple, is shiny, and chewy. Enjoy while hot with some sweet soy sauce.
4. Preparing the Filling – Rehydrate the dried mushrooms by soaking them in hot water for at least 15 minutes. Using a food processor, quickly process the carrots. Repeat this for the cabbage, mushrooms, sweet potato, onions, and garlic. 
Heat a pan. Add in 1 ½ tbsp canola or other neutral oil. When the oil is hot, add in the garlic and onions. Saute for a few minutes until aromatic. Saute the mashed tofu for 6-7 minutes until lightly brown and resembles minced 'meat', Add in the cabbage, carrots, sweet potato, and mushrooms. Cook over medium high heat for 4-5 minutes until the carrots and sweet potato are tender. Season with 2 tsp salt, or to taste. Mix well and cook for another 2-3 minutes over medium heat. Transfer to a strainer to drain excess liquid from the vegetables. Return the cooked vegetables to a bowl. Mix in the 2 ½ tbsp cornstarch until well incorporated. Set aside to cool.
---